The Surge Institute recently awarded $100,000 in funding to three early-stage ventures run by Black, Latinx, Asian, and Pacific Islander education leaders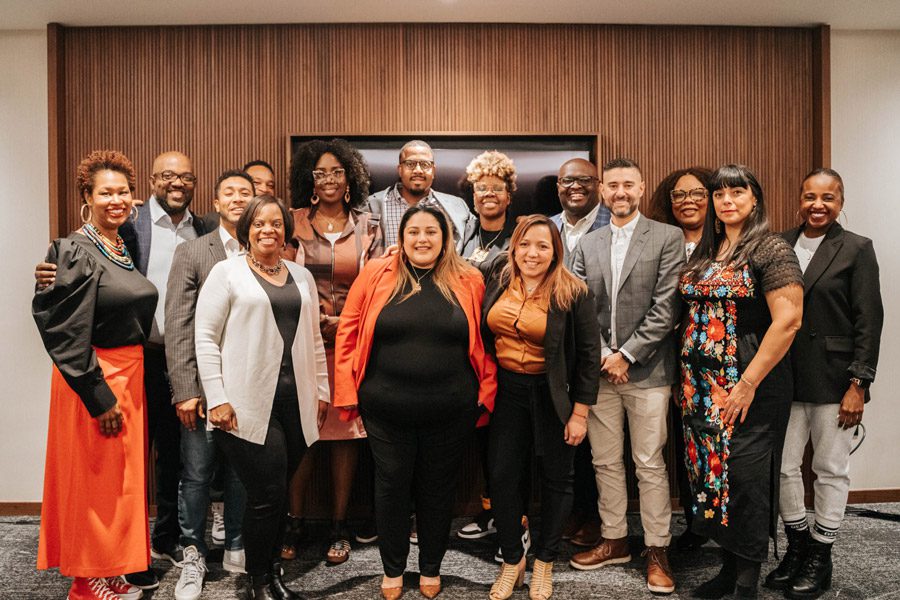 CHICAGO, IL (February 1, 2023) – The Surge Institute, a national nonprofit known for programming that creates transformative spaces for education leaders of color, recently awarded $100,000 in funding to three early-stage ventures run by Black, Latinx, Asian, and Pacific Islander education leaders. The awards were determined on Thursday, January 19, during a special Pitch Night event in Austin for participants in the Surge Angels Cohort. The event was the culmination of an intensive seven-month program funded by the Osa Foundation and Comcast.
Carmita Semaan, Surge Founder and CEO, opened the event. Chief Advancement Officer Will Collins greeted guests and supported the founders and angel investors. Tiara Wheatley, Vice President of Alumni Impact for Surge, served as emcee for the evening, which was held at the Omni Austin Hotel. 
Overall Placement:
Dr. Leslye Salinas –  La Casa de Jenny – $40,000 – 1

st

place

Robbie Currie –

The MARCUS Literacy Project

– $30,000  – 2

nd

place

Kim Riley – North Star Technology Solutions – $30,000 – 2

nd

place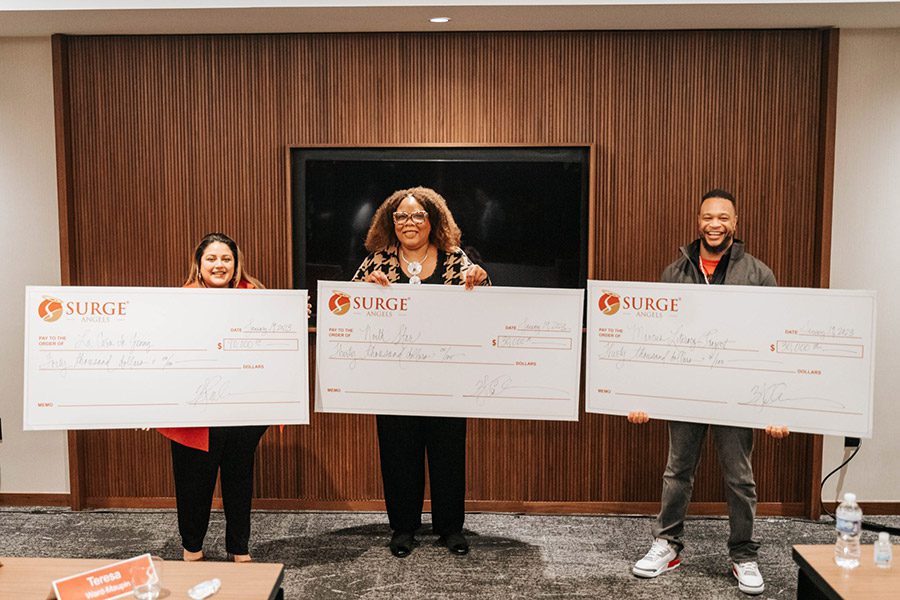 After pitches from 10 Surge alumni representing all 4 sites with alumni, the panel of Angel investors funded the growth and development of top ventures. First place winner, Dr. Leslye Salinas, was awarded $40,000 toward La Casa de Jenny, which has the mission of serving as a navigation and case management center to aid recently migrated individuals to build toward self-sufficiency in their new homes. They provide support and care to help community members assimilate and thrive in their new communities.
Surge Angels participants are alumni of Surge programs. The seven-month program offered each participant the opportunity to close the gap between ideas and impact. Founders were guided and supported in business essentials enabling them to secure funding and prepare to incubate their innovative entrepreneurial ventures grounded in service to their communities. Founders worked with executive coaches with entrepreneurial experience. The program culminated in Pitch Night, an event where each participant had the opportunity to present their venture plans to Angel investors in hopes of securing funding.
Among the ventures were education consultancies,  technology firms, and youth counseling programs, all with the ultimate goal of improving education outcomes for members of their communities.
"Surge was always designed to support and elevate brilliant and bold leaders with big dreams to transform education," Carmita Semaan, Founder and CEO of the Surge Institute, said. "The Surge Angels program is our opportunity and honor to continue that work with our alums and invest directly into their visions. I am so inspired by what all ten of these leaders presented and am confident they will take their work to the next level." 
"It was truly an honor and a pleasure to serve as a Surge Angel," said Aki Garrett, who was a angel investor in the pitch night event. "All of the entrepreneurs were incredibly well prepared with solutions to very real problems. I've never been a judge for a pitch competition of this caliber."
"The biggest learning from my Surge Angels experience was how when you have accountability and support structures in place, your big dreams become much more achievable," said Dr. Leslye Salinas, an alumna from Oakland, whose venture La Casa de Jenny was awarded the top prize. 
"I am glad I participated in Surge Angels because the experience laid the foundation for my leadership development and business acumen," said Kim Riley, who received funding support for her business North Star Technology Solutions. "I've participated in several fellowships that focus strictly on shark-tank style teachings. Few are intentional about incorporating programming that helps to ground you in your personal journey to become an authentic leader. Before participating in Surge Angels, my concept was stalled. It has now come full circle and I am confident it will be piloted, scaled and very prosperous. Most of all, I am now approaching this work with clarity, confidence and a strong network of expertise."
"My Surge Angels experience taught me the importance of investing in yourself, never giving up on your dreams, and remaining committed despite challenges and obstacles," Robbie Curry, whose project The MARCUS Literacy Project was funded in a tie for second place. 
About the Surge Institute:
The Surge Institute is a national 501(c)(3) nonprofit organization that was established with a simple but important mission to develop and elevate leaders of color who create transformative change for children, families, and communities. Founded by Carmita Semaan in 2014, the organization was designed to empower emerging diverse leaders to change the landscape of education by providing them with a unique, authentic leadership development experience. To learn more about The Surge Institute, please visit: https://www.surgeinstitute.org/ or contact us at info@surgeinstitute.org