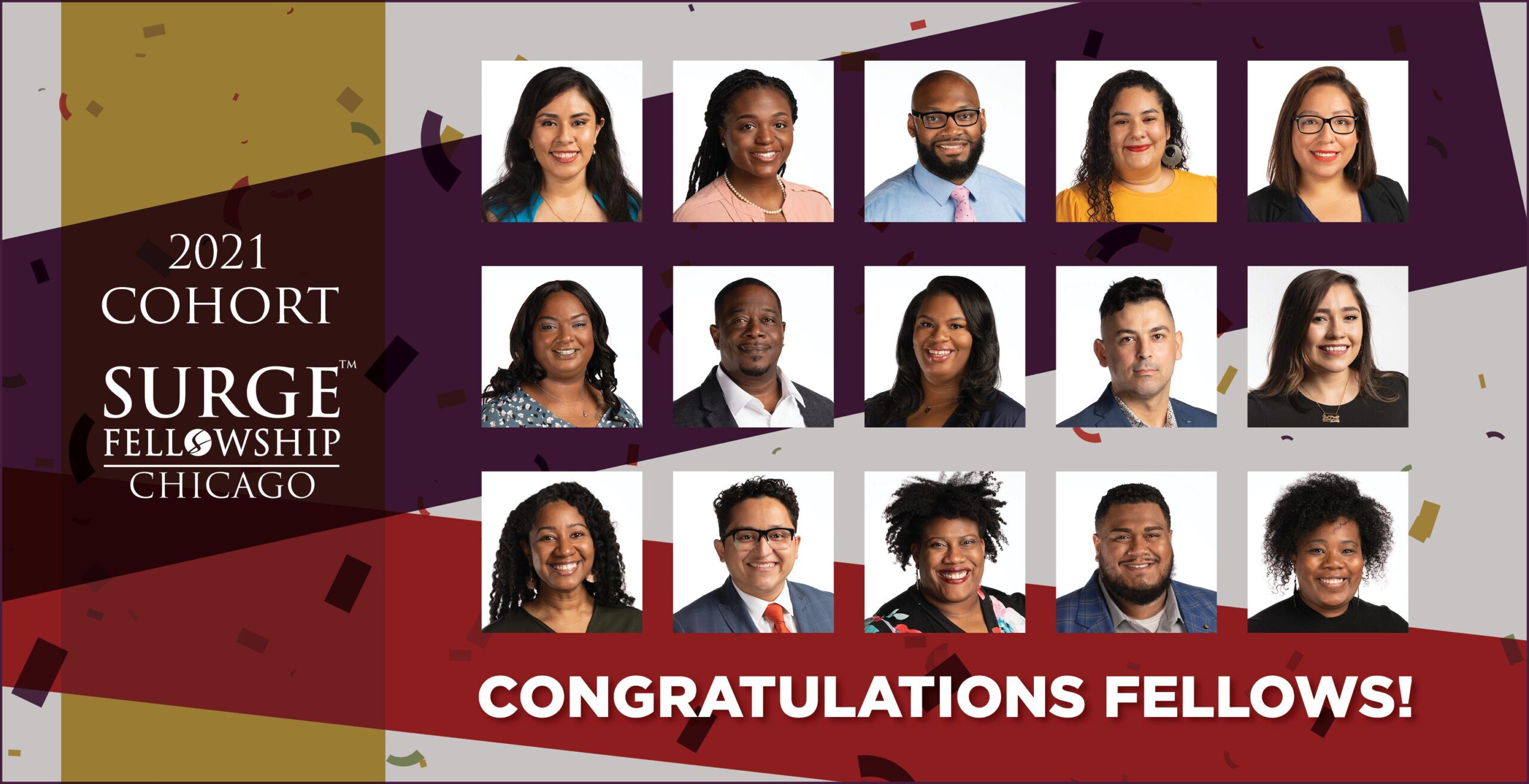 During this time that we are in, Surge has continued to be resolute regarding our mission to empower and elevate leaders of color given the widespread impact the COVID-19 pandemic has had on our communities. Though several aspects of our work have shifted this year, this movement has traversed and persevered. And today, we are honored to welcome the newest family members of the Surge movement, the 2021 Chicago Surge Fellowship cohort! These 15 Black and Latinx geniuses join us with vast experience as leaders in the education and youth-serving landscape and are connected by the collective goal to reimagine and rebuild systems so that they best serve youth, families, and communities of color in Chicago and beyond.
"During this unprecedented time when communities of color are facing two pandemics – COVID-19 and racism – cultivating a safe space for leaders of color to tap into their collective power, to enhance their skills and knowledge to navigate and change complex systems, and to focus on personal growth and healing is more critical than ever," shared Surge Chicago Executive Director, Tamara Prather.
Learn more about our Chicago Surge Fellows below:
Traditionally, the Surge Fellowship has transpired through monthly in-person sessions held at Chicago-based organization venues focused on generating social impact for the surrounding communities, such as Chicago Scholars, Walter H. Dyett High School for the Arts, and NEIU El Centro. Due to the pandemic, all Surge sessions will be held virtually to ensure the safety of our community, but our gatherings will remain the sacred community spaces they have always been for building critical leadership skills, collective and personal healing and galvanizing systematic shifts rooted in justice and liberation for communities of color.
There exists a common narrative amongst Surge Fellows and Alums, one of an uphill battle and of having to navigate a white supremacist system that casts off the genius present within them. Yet, they have continued to be in the fight because it is necessary for the well-being of our Black and Latinx communities. This October, Surge will be celebrating five years as a national movement, which originally began in Chicago. Our ongoing story of resilience and community continues to write itself, and with the welcoming of our seventh Chicago cohort into the Surge Fellowship, we are excited to continue elevating and championing leaders and visionaries who are already having a multigenerational impact within their communities. Liz Gutierrez, 2021 Chicago Surge Fellow and Program Director at The Posse Foundation, explains what this experience will mean for her:
"My hope is to walk the Surge journey with intentionality and grace. Transformational change is not always easy; it forces us to recognize privilege, to explore where intentions are rooted, and demands that we name anti-indigeneity, racism, classism, ableism, and everything else that lies deep in the darkest parts of ourselves and our communities. Surge invites us to process that discomfort while thinking about ways Black, Latinx, and professionals of color have immense power. It asks us to think about liberation not through the eyes of white culture, but through the lens of those we aim to serve and those whose chains are the heaviest. Surge elevates the gifts that have always been ours, the stories that can only be told by us, and the love that only we can continue to give each other among all the hate, violence, and oppression. This is what Surge is to me."
Stay up-to-date with any news and developments of the Surge movement by following us on social media @Surge_Institute and @Surge_Chicago!