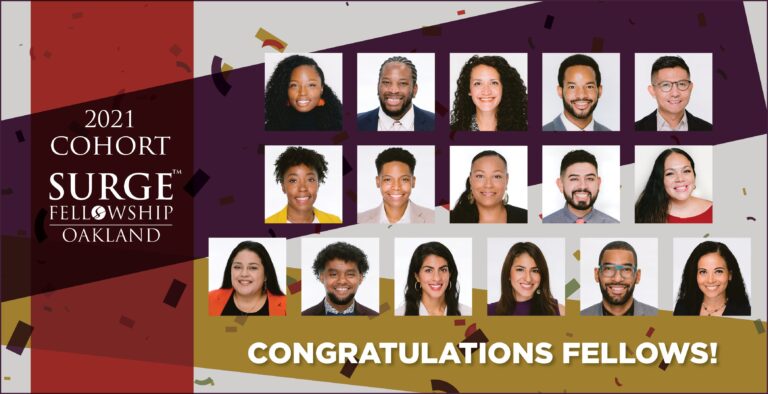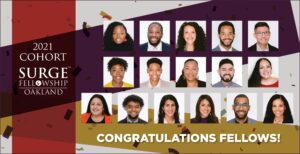 "Every human is an artist. The dream of your life is to make beautiful art."
― Don Miguel Ruiz, The Four Agreements
It is incredible to think that over two years ago, the Surge Institute became a national movement with the expansion of the Surge Fellowship to Oakland, California. Over the course, we've had the honor of being in community with countless Black, Latinx, and Asian/Pacific-Islander trailblazers in the Bay Area, and now we are excited to announce that 16 leaders of color from across the Oakland and Bay Area education and youth-serving landscape have been selected for the 2021 Oakland Surge Fellowship cohort! To date, Surge Oakland has had the opportunity of working with 37 Surge Fellows, all of whom have since joined Surge's nationwide alumni network of mission-driven leaders, and we are excited to begin the next transformative chapter of this movement with the 2021 Oakland Surge Fellows:
Elaina Amos; Instructional Teacher Leader, Oakland Unified School District
Xavier Buster; Director, Alumni Engagement, Teach for America
Dana Cilono; Director, CARES for Learning
Omar Currie; Principal, Education for Change Public Schools
Denmark Diaz; Men's Health & Sexual Violence Prevention Educator, San Francisco State University – Health Promotion and Wellness
Erin Hartfield; Academic Interventionist, Gateway Public Schools
Lauren Horton; Dean of Culture, Lighthouse Community Public Schools
Amaya Noguera; Lead of Afro-Latinx Programming, Latino Equity Project
Adam Quintero; Assistant Principal, Achieve Academy: Education for Change Public Schools
Mirella Ramirez; Teacher on Special Assignment, Instructional Coach, Oakland Unified School District
Leslye Salinas; Business Manager, Roses in Concrete Community School
John Tamrat; College Financial Coach & Partnership Coordinator, Moneythink
Mary Thomas; Program Manager, School Enrollment, SMART
Alicia Torres; Education Director, Felton Institute
Christopher Williams; Assistant Director of Admissions and Outreach Coordinator, Urban School
Brianna Winn; Director of Alder Bay Teacher Residency at Alder Graduate School of Education, Envision Education
Traditionally, the Surge Fellowship has transpired through monthly in-person sessions held at Bay Area-based organization venues focused on generating social impact for the surrounding communities, such as Girls Inc. of Alameda County and the Charles Porter Golden Gate Recreation Center. Due to the COVID-19 pandemic, all Surge sessions will be held virtually to ensure the safety of our community, but our gatherings will remain sacred community spaces for building critical leadership skills, collective and personal healing and galvanizing the transformative changes in education that Oakland and Bay Area youth and families of color deserve. Program Director for the Surge Fellowship in Oakland, Yvonne Rodriguez, shares:
"I'm so proud of our 2021 cohort and of all of our applicants this year. Stepping forward during these unsettled times shows their courage and commitment to making sure that they are ready for what comes next. This is a unique moment in history to be starting a fellowship like this one. The 16 Fellows will do the work of understanding the new landscape and the new possibilities that have emerged. They will strengthen their capacity for leadership by engaging and empowering the community to define what's needed and to drive real change. This is an exciting time for Surge Oakland!"
Surge has always believed that the justice-based shifts this community seeks to generate cannot come to fruition through silos; it takes a village. And over the course of the 2021 Oakland Surge Fellowship, the cohort will center each other's lived experiences and personal talents to realize the multi-generational impact that each fellow envisions. It is through investing in the genius that already exists in our communities and sharing that with the world that Surge Fellows accelerate forward as authentic, heartfelt champions of their work.
The Surge Fellowship began in Chicago in 2015, with the goal of expanding diversity in the education leadership pipeline, and over the past 5 years, this movement has extended its reach far and wide, activating, elevating, and connecting mission-driven education and youth-serving leaders of color across the nation. 2021 Surge Oakland Fellow Adam Quintero explains what this experience will mean for him:
"The Surge Fellowship is not a typical educational leadership program for many reasons that I admire it for. It is a movement because it empowers leaders of color to rethink and redesign education. Surge does not focus solely on the technical pieces of being a school leader; it puts a tremendous emphasis on mindset and equity. Its mission is to change the face of leadership in urban education, and I am eager to learn how to do that. It excites me that 87% of Surge Alumni report changing policies/ practices and/or creating system-level change, as I do not just want to live in theory. Especially now in a time where we can disconnect from brick and mortar and take a step back to truly reflect on systems that exist and maintain the status quo at schools, I want to be a part of a collective that fosters action. I want to be prepared to dismantle systems of oppression that exist in education," shared Adam Quintero, Assistant Principal, Achieve Academy: Education for Change Public Schools.
Stay up-to-date with any news and developments of the Surge movement by following us on social media @Surge_Institute and @Surge_Oakland!