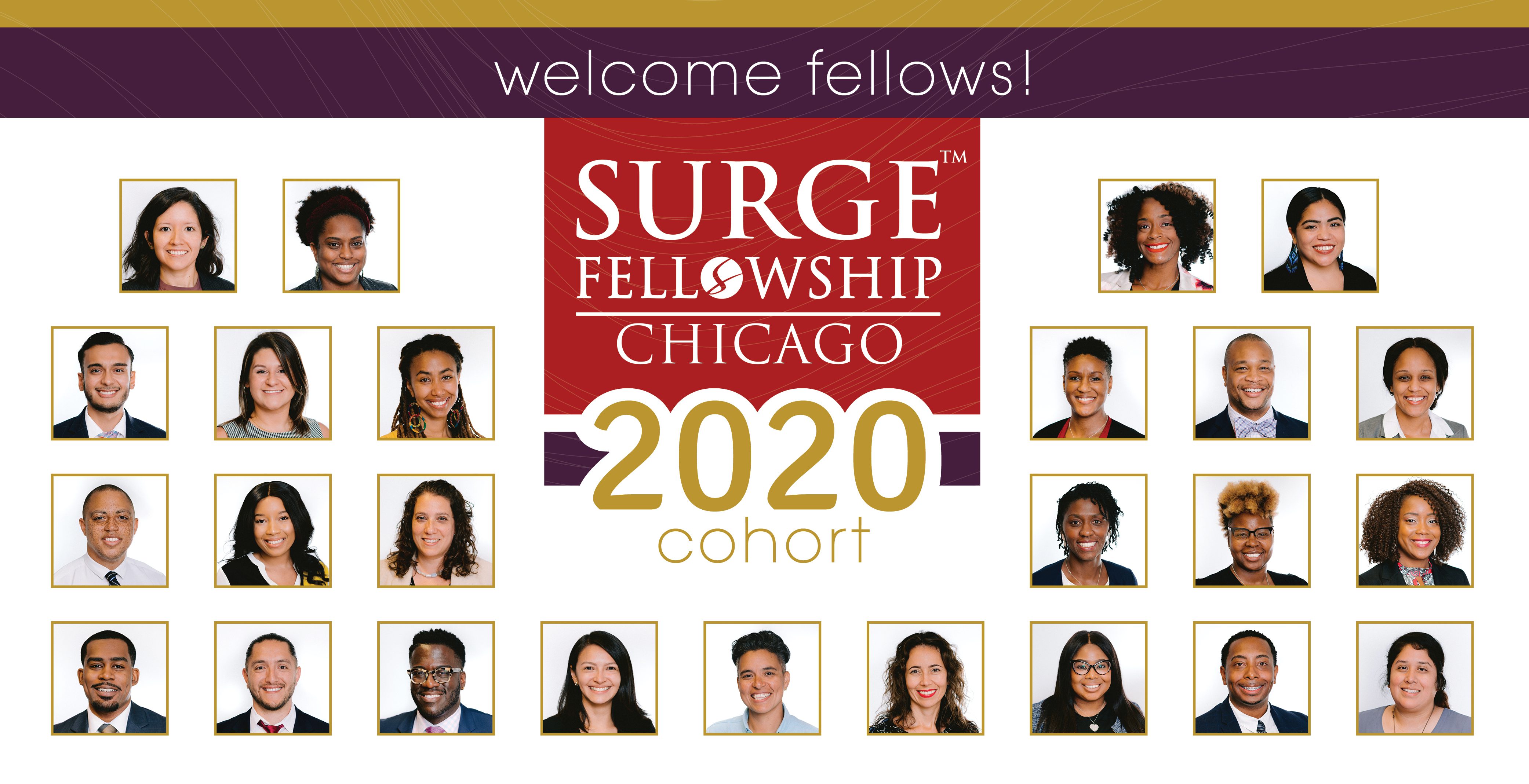 We are proud to announce that 25 leaders who currently serve within the Chicago education landscape have been selected for the 2020 Surge Chicago Fellowship!
The Surge Institute first began serving Chicago communities in 2015, and the total number of our Surge Chicago Alumni reached nearly 100 education leaders of color this past August. Each of our new family members will be welcomed into a space that aims to ignite their inner strengths and leverage their stories and experiences in order to shift the landscape of education for Black and Brown communities. Throughout this transformational experience, Surge will aim to elevate and invest in the genius already present within these emerging leaders of color. Overall, Surge seeks to be a mirror for each of these change-makers.
The following is a list of the 2020 Chicago Surge Fellows:
Michala S. Bell; Social Emotional Learning Specialist, Chicago Public Schools
David O. Blancas; Director of Teacher Support, OneGoal

TaraShaun R. Cain; Principal, Joseph Lovett Elementary – Chicago Public Schools

Emilia Chico; Founder & Principal Consultant, Chico Consulting Group

Lilly Cruz; Senior Director of Networks, Leading Educators

Robbie Curry; Director of Portfolio Performance, Illinois State Charter School Commission

Derrick M. Fleming, Jr.; Managing Director of College Access, Chicago Scholars

Mildred Leonela Garcia Gomez; Dean of Students, John Hancock College Prep – Chicago Public Schools

Shondele Gillens; Instructional Leader, Legacy Charter School

Ada Gomero; Equity Data Strategist, Chicago Public Schools

Vanessa Gutierrez; Research Analyst II, University of Chicago Consortium on School Research

Natasha Hamilton; Director of Teacher Support, Year 1, OneGoal

Brian Harris; Postsecondary Coach, Chicago Public Schools

Aiyeshia Wong; Executive Director, CICS Global Leaders Initiative

Brittany Jones; Assistant Principal, KIPP Chicago

Celia Gonzalez Lozano; Chief Program Officer, Communities In Schools of Chicago

Danny L. Mason; Director of Teacher Support, Enrollment, Year 2, OneGoal

Alberto Morales; Associate Program Officer, Robert R. McCormick Foundation

Destiny Ortega; Senior Associate, Civic Consulting Alliance

Tanesha Peeples; Deputy Director of Outreach, Education Post

Sasha Pena; Director of Career and Leadership Development, Chicago Scholars

Alison Regalado Perez; Associate Director, Undergraduate Enrollment and Partnerships, National Louis University

Ulric Shannon; Director of External Affairs, Civitas Education Partners

Ashli Watts; Director of Teacher Support, OneGoal
Tiara Wheatley; Assistant Principal, Chicago Tech Academy
Over the course of the Fellowship program, Surge Fellows will receive executive skill training, a space for connection and community building, and the tools needed to facilitate transformative change within institutions and organizations serving youth and communities of color. The cohort will also develop their own leadership and advocacy skills, with a culminating step of the program being the completion of individual capstone projects, which will focus on advancing the work of a new or existing Chicago education initiative.
After completion of the program, graduating Fellows become part of an elite and growing national network of Surge Alumni who are currently leading equitable change in numerous cities across the United States. The inaugural Surge Fellowship cohort joined the Surge family in 2015, with the initial goal of expanding diversity in the education leadership pipeline at the forefront. Now, this vision has taken a life of its own, beyond the organization's imagination! "As an educator with a history of organizing, I have always felt a sense of struggle and a desire for transformation at my core," said Emilia Chico, 2020 Surge Fellow and Principal Consultant for the Chico Consulting Group. "However, after spending far too long in academia, my courageous, radical voice has been stifled, and I am looking for a community to assist me in forging a new path of self-discovery and collective action. More than ever, I know that I am capable of creating the spaces necessary for young people to thrive. I am ready to reclaim my voice and build with powerful individuals who are also ready to imagine the possibilities of educational reform!"
If you would like to learn more about the Surge Institute and join this movement, visit us at www.surgeinstitute.org and follow us on social media @SurgeFellowship! Once again, congratulations to our 25 new family members!