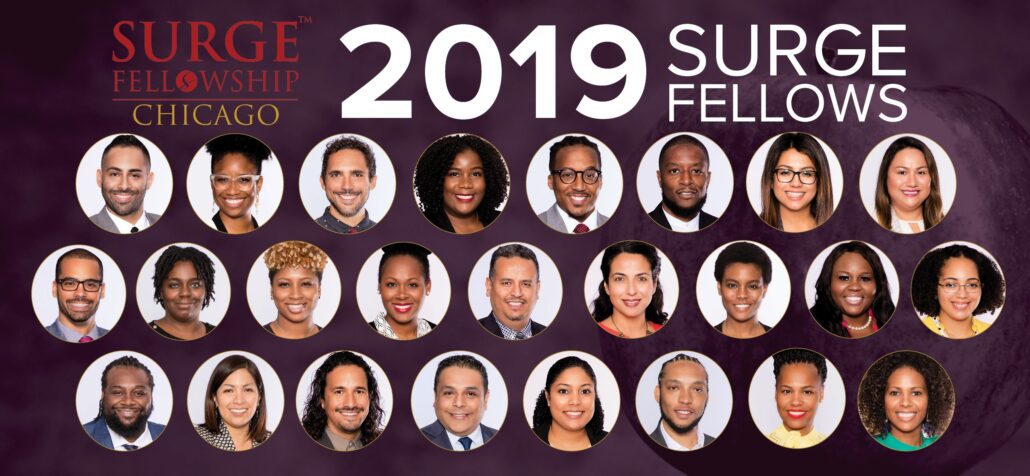 From an impressive pool of applicants, 25 African American and Latinx leaders were selected for the 2019 Chicago Fellowship program.
In October, the 2019 cohort will begin the year-long program in October, which grooms emerging diverse talent, empowering them to change the landscape of education by providing them with unique leadership and advocacy skills.
"Being a part of the Surge Fellowship will help me to grow as a leader in order to affect change in educational and administrative practices, to empower the growth and achievement of Chicago youth and communities of color," shared 2019 Surge Fellow Jordan Owens, Speech, Language, and Audiology Coordinator at Chicago Public Schools. "I wholeheartedly believe in the power of collective work and the power of like-minded individuals to affect significant change."
The following is a list of the 2019 Chicago Surge Fellows:
"I believe that it is important for our African American and Latinx youth to see leaders who look like them, working together and fighting for educational access and advancement in order to cultivate strong leaders and even stronger communities," concluded Owens.
The Surge Fellowship program provides fellows with executive skill training, leadership development and a space for connection; and in doing so equips fellows with the tools and networks needed to facilitate transformative change within institutions and organizations serving youth and communities of color. Graduating fellows become part of an elite and growing national network of Surge Alumni. As of August 2018, Surge has more than 80 fellowship alumni leading change in cities across the U.S.