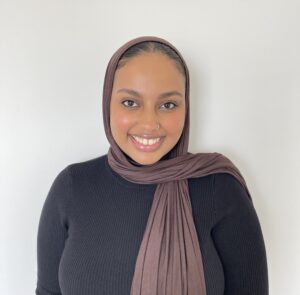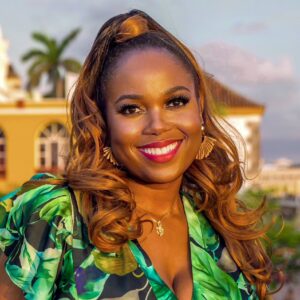 The Surge Institute is proud to announce the addition of two new team members, Elham Mohaba, National Programs Coordinator and Stephanie Ogbogu, Digital Strategist. 
Elham Mohaba, Surge Institute's new National Programs Coordinator, will oversee the recruitment, application, and selection processes for Surge programs to ensure excellence and consistency across all program sites. Elham is a proud DMV native, and previously worked as the Associate of Program at CityBridge Education in Washington D.C. prior to joining the Surge team. Elham has experience in education, policy, and the nonprofit sector, where she has utilized her superpower of creating systems and processes that further programmatic capacity for equity-centered results. 
Stephanie Ogbogu, the new Digital Strategist, will oversee Surge's digital presence and storytelling. She is an accomplished journalist, speaker, and content creator known for her insightful, engaging presence in the digital landscape. Her dedication to storytelling and a keen eye for detail and accuracy shine through in her digital marketing, branding, and social media work. Stephanie's career highlights include her role as Associate Director of Editorial Operations at Blavity, Inc., and Head of Content and Social at Venture Noire. Beyond her role as a digital expert, Stephanie has extended her expertise and shared thought-provoking perspectives to platforms such as AfroTech Conference, Google Black Publisher's Summit, CNN, Indiewire, TMZ, Huffington Post, and more. With a reputation for integrity and a commitment to delivering balanced and informative content, Stephanie Ogbogu continues to make her mark in digital media.
The Surge Institute is thrilled to welcome Elham and Stephanie to the team. They bring knowledge and experience to the organization, and will be instrumental in helping the Surge Institute work toward its mission.
—
MEDIA CONTACT:
Andre Smith
andre@surgeinstitute.org
Phone: (312) 243-6683
—
About The Surge Institute:
The Surge Institute is a national 501(c)(3) nonprofit organization that was established with a simple but important mission to develop and elevate leaders of color who create transformative change for children, families, and communities. Founded by Carmita Semaan in 2014, the organization was designed to empower emerging diverse leaders to change the landscape of education by providing them with a unique, authentic leadership development experience. Learn more about The Surge Institute,