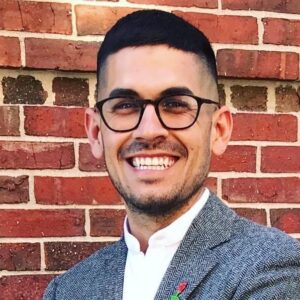 The Surge Institute is excited to announce the appointment of José M. Andre Iniguez as the new Program Director, Alumni Impact. With an impressive background that includes leading strategies for youth development, education, and digital media campaigns for a number of prominent organizations, José has been chosen to bring his unique set of skills and passion to Surge's mission after a highly competitive search. 
Raised in California's Central Valley, José brings with him experience from Equitas Academy Charter Schools, City Year Los Angeles, MTV, Participant Media, Swipe Out Hunger and other organizations throughout his professional career. In his role, José will lead and support the design, implementation, and execution of the Alumni Convening, Surge Angels, the National Alumni Committee, Alumni Affinity groups, and more.
"We are excited about the fresh perspectives, innovation, and dedication he will bring to our work," said Tiara Wheatley, Vice President of Alumni Impact. 
Learn more about José:
Born in East LA and raised in the rural farm town of Tulare in California's Central Valley, José M. Andre Iniguez has dedicated his professional career to developing students and young adults toward achieving their full potential in and out of the classroom. Before consulting, he most recently served as Site Director for Year Up San Francisco where he oversaw the site's programmatic and operational efforts toward bridging the opportunity divide for talented young adults by training and then matching them for internships at top finance and tech companies in the Bay Area.
Previously, he served as the Director of High School Preparation and Alumni Programs at Equitas Academy Charter Schools, where he oversaw the strategy development, implementation, and evaluation of the inaugural alumni program providing the network's scholars and families with support through pathways toward college and career success. As Senior Program Manager at City Year Los Angeles, he led and implemented school transformation efforts inside K-5th grade classrooms that empowered students to get back on track to graduate high school. He has also led youth development and digital media efforts at MTV, Participant Media, and Swipe Out Hunger, among others.
Raised by Mexican immigrant parents and the first to attend college in his family, José graduated with a bachelor's degree in sociology from the University of California, Los Angeles, and earned a master's degree in education policy and management from the Harvard Graduate School of Education.
José is also a graduate of the Broad Residency in Urban Education, earning a master's degree in education leadership from The Broad Center. He is a proud member of the Beyhive, is inspired by Sonia Sotomayor and Paulo Freire, and enjoys creating memories with his eight nieces and nephews. He lives in Tulare with his husband, Rafael.