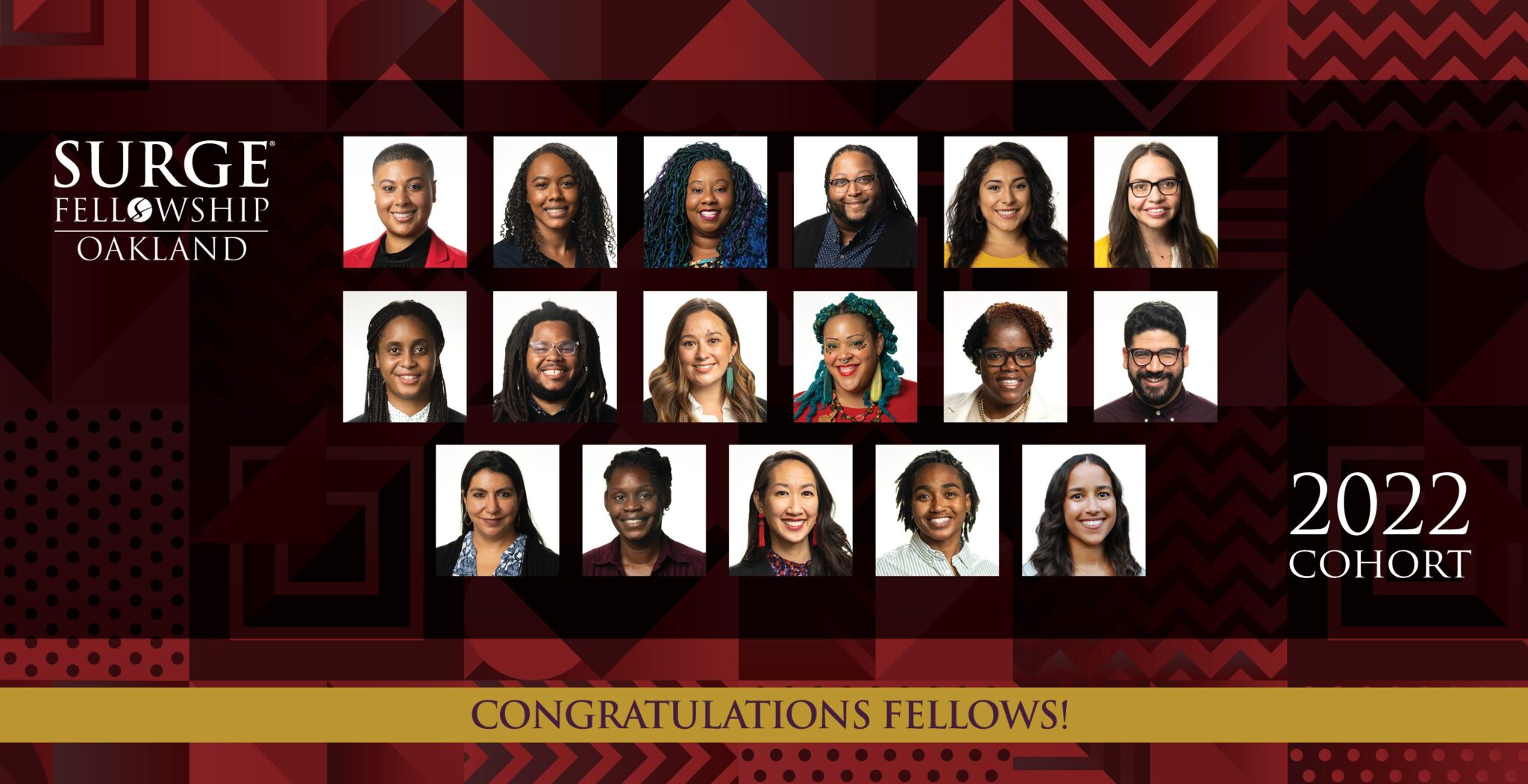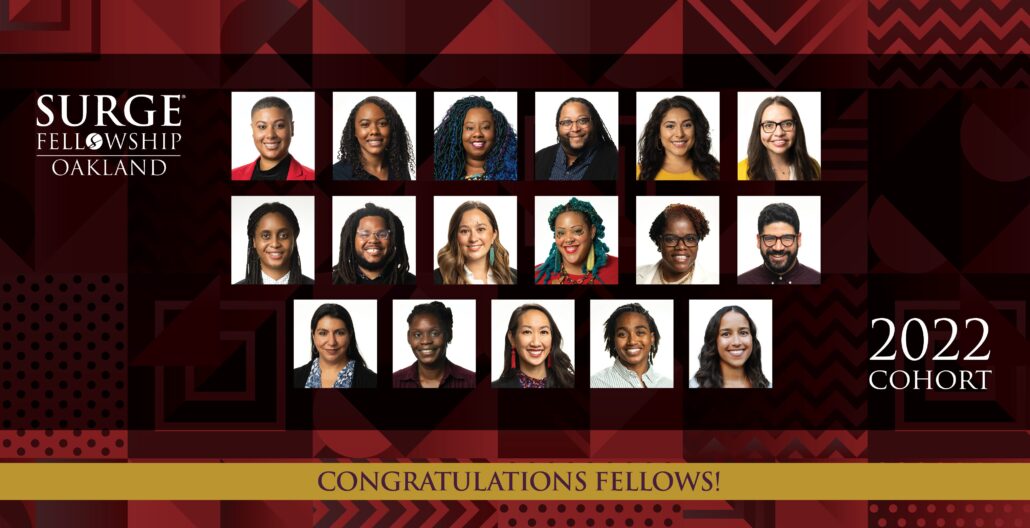 (OAKLAND, CA – August 18th, 2021) The Surge Institute is excited to welcome 17 leaders from across the Bay Area to join the 2022 Oakland Surge Fellowship cohort. As the organization enters its fifth programmatic year in Oakland, these fellows join a vast network of mission-driven leaders who are currently working within the education and youth-serving space, united by the collective goal to transform systems and build towards a future where the nation's young people and communities of color can thrive.
The Surge Fellowship is a best-in-class, spirited experience for emerging leaders of color in education. During selection for the cohort, the Surge Institute identifies and elevates promising education leaders of color to engage in a collaborative learning environment guided by Surge's four programmatic objectives: Dream Big, Focus Inward, Know the Landscape, and Make an Impact. With experience ranging in sectors from philanthropic to youth development, from nonprofit to traditional school administration, the 2022 Surge Oakland cohort will embark on a transformational, professional journey in which they will build community, freedom dream and collectively center on the importance of healing for communities of color all while unlocking unique leadership and advocacy skills. 
"Throughout the recruitment season, we put out a call for leaders of color who are ready and able to do the work of clarifying and strengthening their leadership. I am so grateful for all of the strong leaders who applied, and I am eager to get this year's fellowship off the ground, said Yvonne Rodriguez, Ph.D., Program Director for the Surge Fellowship in Oakland. "In this season of the continuing impact and evolution of the climate crises, COVID-19 pandemic and white supremacy rage, we know that communities of color are disproportionately impacted by these added burdens. Our people need and deserve leaders they can trust now. This cohort is deeply committed and connected to the community, and they understand the complexity of the work ahead and are ready to jump in. I look forward to being in community with them and to witness their impact," she continued.
See below for a full list of 2022 Surge Oakland Fellows:
Traditionally, the Surge Fellowship has transpired through monthly in-person sessions held at Bay Area-based organization venues focused on generating social impact for surrounding communities, such as the National Equity Project, Greenlining Institute and College Track. Last year due to the COVID-19 pandemic, all sessions were held virtually to ensure the safety of the Surge community. In light of recent developments around emerging variants, the organization has determined that all Surge programming will be virtual through the end of 2021. Surge hopes to gradually transition to an in-person or hybrid format as soon as safely possible.
"As people of color in this country, our stories have been, and continue to be, about striving and persisting in the face of 'no' and 'not yet.' And yet, through the generations, we've still found ways to excel," said Swen Ervin, Director, Civil Service & Paraeducator Staffing at SFUSD. "Surge provides an opportunity to knock down the barriers for ourselves and for young people. We must create a future that says 'yes' and 'right now' for our youth – and we're long overdue. And by continuing to bring like-minded people together, Surge helps us amplify our voices, the voices who came before and those yet to come. I want to be part of that. I want to see a future where all kids know that they already possess everything they need."
Over the course of the 2022 Oakland Surge Fellowship, fellows will center each other's lived experiences and personal talents as leaders of color in order to fully realize the multi-generational impact that they collectively envision for their communities. At the culmination of the program, Surge Fellows will complete a Capstone Project. The Surge Fellowship in Oakland utilizes Liberatory Design (LD) as the foundation for Capstone Projects. Through this framework, fellows will engage the community in defining challenges and designing solutions that result in love, justice and equity. In this way, they will ideate and take action on an initiative that is reflective of the hopes and aspirations of communities of color.
The Surge Fellowship was created with the goal of expanding diversity in the education leadership pipeline, and this program and its impact has expanded in reach far and wide, activating, elevating, and connecting mission-driven minds and thought leaders across the nation. This work is made possible by Surge's community partners, funders, supporters and people who believe in investing in the genius that already exists in communities. 
If you are interested in investing in the 2022 Surge Oakland cohort, consider making a contribution to the Surge Forward Fund, which goes directly towards covering tuition amount and supporting the journey of a fellow who would otherwise be unable to cover such the price of the fellowship, or by becoming an IMPACT Community Member.
About the Surge Institute
The Surge Institute was established in 2014 with a simple but important mission to develop and elevate leaders of color who create transformative change for children, families, and communities. Founded by Carmita Semaan in 2014, the organization's signature program, the Surge Fellowship, was designed to empower emerging diverse leaders to change the landscape of education by providing them with a unique, authentic leadership development experience. 
To learn more about The Surge Institute, please visit: https://surgeinstitute.org/