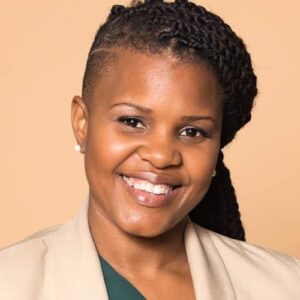 (Chicago, IL – June 28th, 2022) The Surge Institute is excited to announce a key transition and several new faces serving the mission and vision of elevating and connecting leaders of color in education across the nation.
Andrea Black Evans has been promoted to Surge Academy Executive Director, a role in which her leadership voice will extend into every new development of one of Surge's signature programs. As executive director, Andrea will lead a team focused on the strategic national expansion and delivery of the highly successful Surge Academy, a 6-month fellowship experience for education leaders of color. The Academy has launched programs in Indianapolis, Kansas City, and Washington D.C., and has new programs in Philadelphia and Las Vegas on the way. 
With the mission to increase diversity in education leadership, Surge Academy creates the space for black and brown leaders in cities across the nation to connect with each other, elevate their skills and position themselves to step into influential leadership roles with the potential to re-design the education experience for youth, families, and communities. Surge aims to serve 5,000 leaders of color with its programming by 2030 a key component of the organization's multi-year strategy. 
Andrea stepped into the role of Program Director for Surge in 2021 and spearheaded the programming in the inaugural Washington D.C. Surge Academy, a cohort of black emerging education leaders on the cusp of graduating this summer. Previous to joining the Surge team, Andrea brings a wealth of experience from her years of service as a principal for Chicago Public Schools and holds a longtime connection to Surge as a 2017 Surge Alumna of the Chicago Surge Fellowship.
"My Surge experience reignited the spark we all begin the work with – to be the change we want to see," Andrea said. "Throughout the dark times, that spark has inspired me and countless other alumni to shine our light on injustice, inequities, and underrepresentation across this nation. Now more than ever, more lights are needed to illuminate paths of impact and equity for our communities and our children. I am honored to carry the torch of our movement across the Academies." 
New Spaces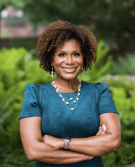 As another key component of the Surge's multi-year strategy, the organization is partnering with the Harvard University Graduate School of Education's Ed.L.D. Residency, bringing in a Harvard doctoral fellow to help launch and expand programming instrumental to the success of the strategy. 
Through the program, Surge was matched with Amanda Aiken, a brilliant leader with a strong background in the New Orleans Public School system. Before her journey as a Doctoral Fellow, Presidential Public Service Fellow, and Ambach State Education Fellow, Amanda served as an award-winning school leader and was profiled by national news outlets as well as her Alma Mater Teachers College, Columbia University for being a "Changemaker". 
In her role as an Innovation Doctoral Resident for Surge, Amanda will be supporting Innovation and New Projects, namely the launching of an exciting new pilot program and the expansion of Surge's continuing education work with alums of its fellowship programming.
New Faces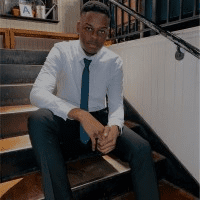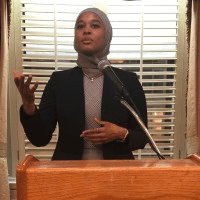 Also joining the Surge Academy team are Kevin Oneale and Ameenah Muhammad who will serve as Operations Coordinators, responsible for being culture champions and managing planning and logistics for Surge programs.
Kevin is a graduate of Baruch College at the City University of New York and brings a background in hospitality, customer service, and organizational experience. Ameenah graduated from Queens College of the City University of New York and brings social media knowledge along with her organizational skills and international experience. 
"We are not simply employees," Ameenah said. "The Surge Institute invests in each and every one of us, which makes me happy to be working there. On my first week of work, I had the opportunity to see this in action. I feel more at ease with the way I carry all of my identities, which is refreshing, given my multi-cultural and multi-religious surroundings. I feel validated, grounded, and surrounded by a strong learning community where we stand up for and support one another."
Both Kevin and Ameenah participated in the projectBASTA fellowship, a 10-week program designed to support first-generation college students land an entry-level position.
"What excites me the most about joining the Surge team is knowing that the impact that we have does not stop at the individual level," Kevin said. "It carries on to the lives of the fellows, their families, and their communities. It excites me to be a part of an organization that understands the importance of diversity, representation, and inclusion." 
To learn more about applying to the Surge Academy, visit the Surge Academy homepage. Applications =. Applications for the Philadelphia cohort are open. Applications for the Las Vegas cohort will open in October 2022.
Sign up for the Surge Institute's Quarterly Newsletter and follow the Surge Institute and Surge Academy on social media to stay informed about upcoming events, news, and related developments.
—
MEDIA CONTACT:
Marisa Muñoz
marisa@surgeinstitute.org
c: 773-251-7475
—
About The Surge Institute:
The Surge Institute is a national 501(c)(3) nonprofit organization that was established with a simple but important mission to develop and elevate leaders of color who create transformative change for children, families, and communities. Founded by Carmita Semaan in 2014, the organization was designed to empower emerging diverse leaders to change the landscape of education by providing them with a unique, authentic leadership development experience. To learn more about The Surge Institute, please visit: www.surgeinstitute.org