(Chicago, IL – September 15th, 2021) Over the summer season, Surge has continued to develop, expand and evolve into the next chapter as a national movement: last month the 2022 Chicago and Oakland Surge Fellowship cohorts were announced, and the organization is in the early stages of recruiting leaders for the inaugural Washington DC Surge Academy cohort and its 2022 Indianapolis Surge Academy cohort. Today we are excited to share recent growth and transitions that are happening within our National and Local Leadership Teams.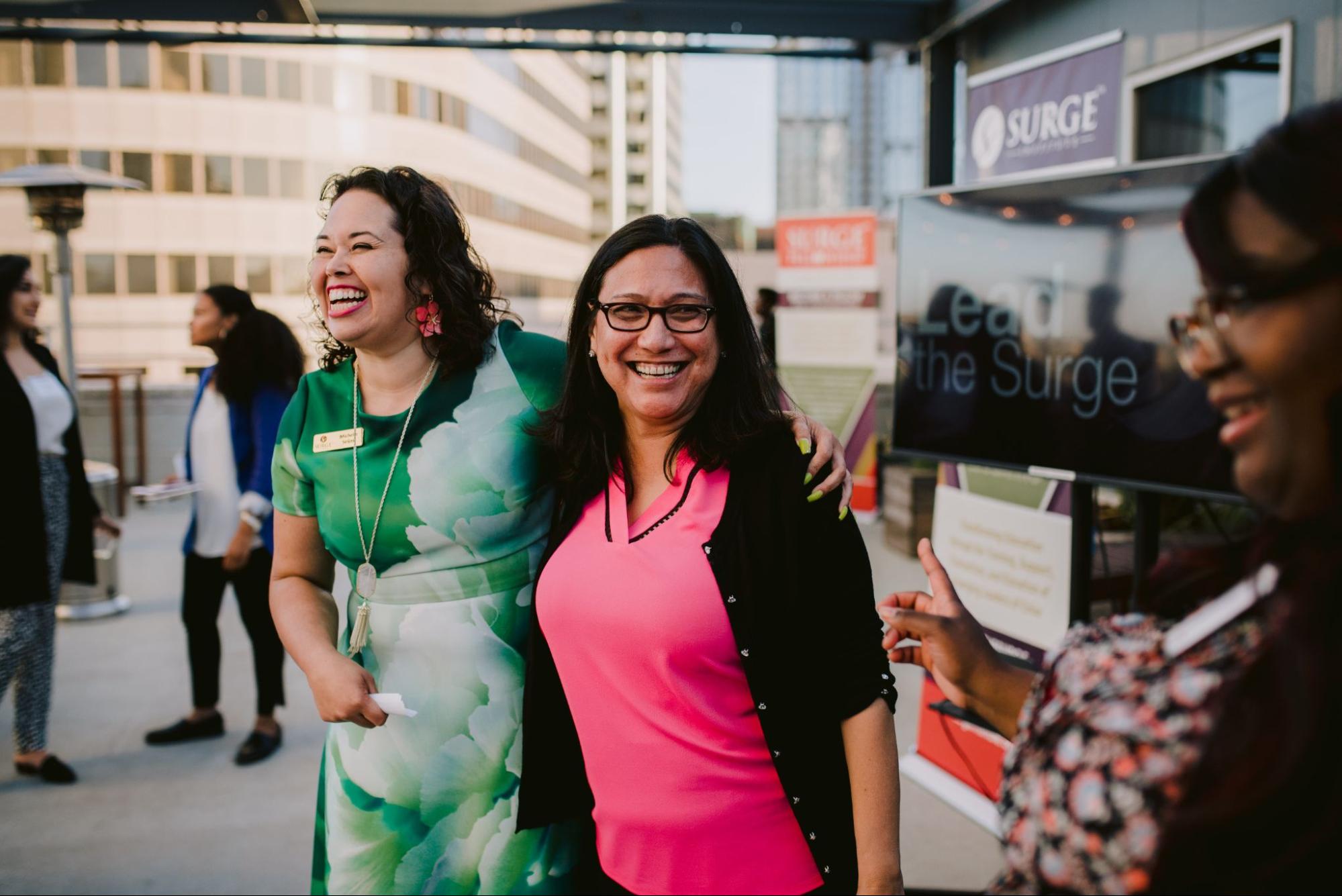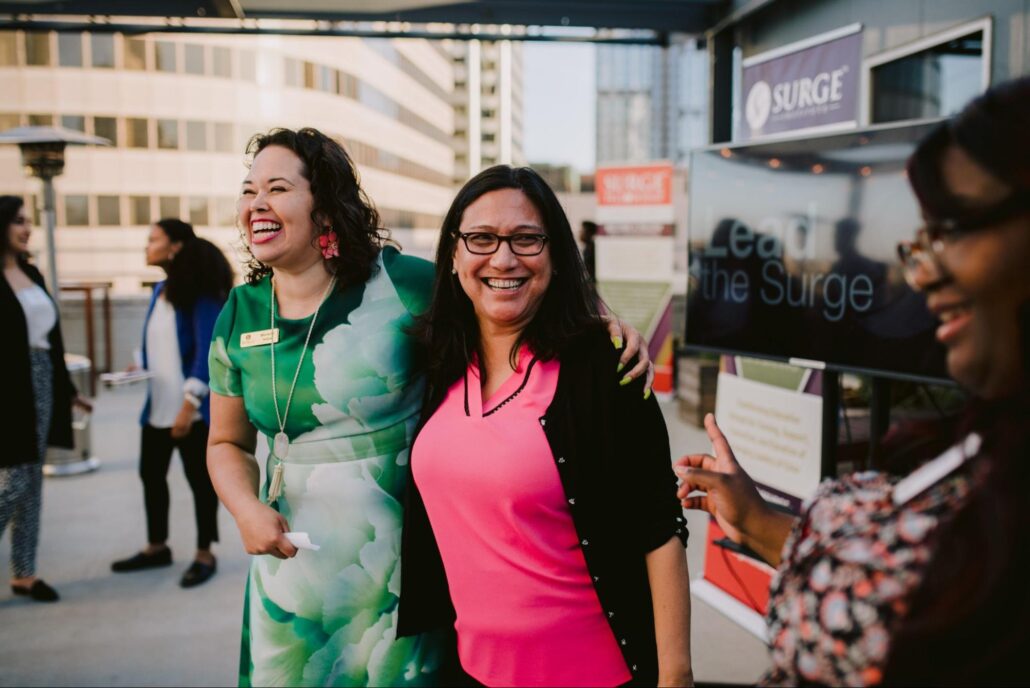 Beginning early September, Michelle Seijas, Ed.D. will transition out of her role as Executive Director for Surge Oakland to support Surge in new ways and focus more time on her coaching and consulting practice (@ThrivingChingona). Michelle will continue to support our movement as a contractor over the next year – serving as the interim Executive Director of Surge Academy, providing onboarding and support for our new Program Directors and building the foundation for excellence in future Academy sites. Michelle will also serve as an Executive Coach for Surge Fellows as necessary. Yvonne Rodriguez, Ph.D. will assume the role of Executive Director for Surge Oakland. She has served as the Oakland Program Director for the past three years and will now step up to lead the Surge Institute's work in Oakland and the Bay Area.
Additionally, 2017 Surge Alumna Andrea Black Evans, M.Ed has accepted the role as Program Director for the Surge Academy. In this role, Andrea will be responsible for the execution of the Surge Academy program within our newest program site, Washington, D.C. – this will include program delivery, evaluation as well as fellow selection and recruitment.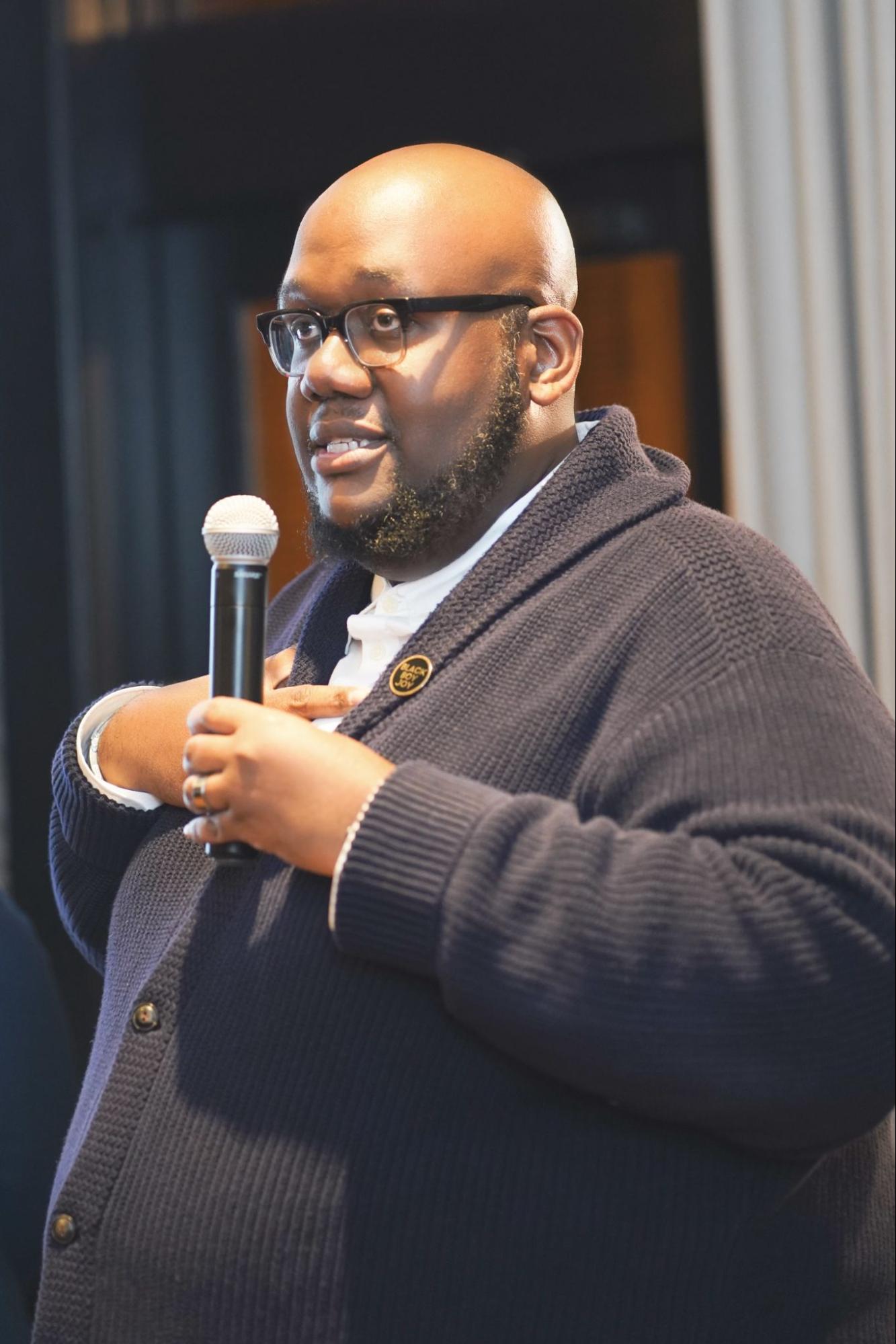 Our VP of Development & External Affairs and 2017 Surge Alumnus Will Collins has been officially promoted to Chief Advancement Officer. In this newly created role, he will develop and lead strategies to build a large, diverse coalition to advance the cause of educational equity and engage a new generation of leaders to join the effort. In addition, the CAO will work collaboratively with leaders across the organization to create and execute an integrated vision for external affairs and directly manage our external partnerships, new site growth, fundraising, and alumni impact. 
Rodney Thomas has transitioned out of his role as VP of National Programs in order to focus on his family needs. He will continue to be in community with Surge as a speaker, education advocate and strong supporter to the vision of transforming education for our youth and communities. We are truly thankful for his service to our movement and our communities.
As Surge continues to grow and change, our collective aim is to ensure that we support our people in that growth – even when it means growing OUTSIDE of Surge. The future of Surge is bright and our needs, internally and externally, continue to evolve.
Sign up for the Surge Institute's Quarterly Newsletter and follow the Surge Institute on social media to stay informed about upcoming events, news and related developments.
MEDIA CONTACT:
Marisa Muñoz
c: 773-251-7475
About The Surge Institute:
The Surge Institute is a national 501(c)(3) nonprofit organization that was established with a simple but important mission to develop and elevate leaders of color who create transformative change for children, families, and communities. Founded by Carmita Semaan in 2014, the organization was designed to empower emerging diverse leaders to change the landscape of education by providing them with a unique, authentic leadership development experience. To learn more about The Surge Institute, please visit: www.surgeinstitute.org