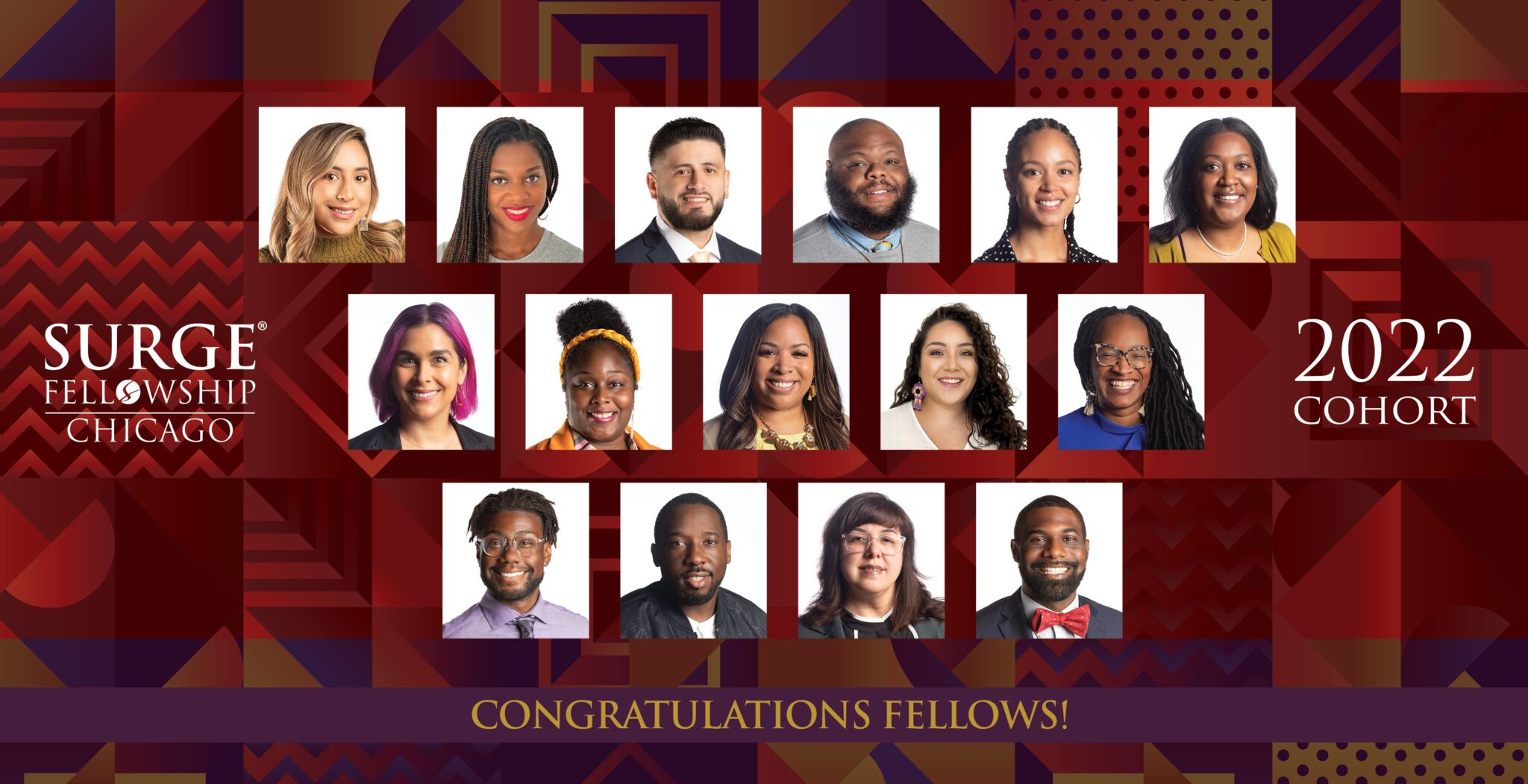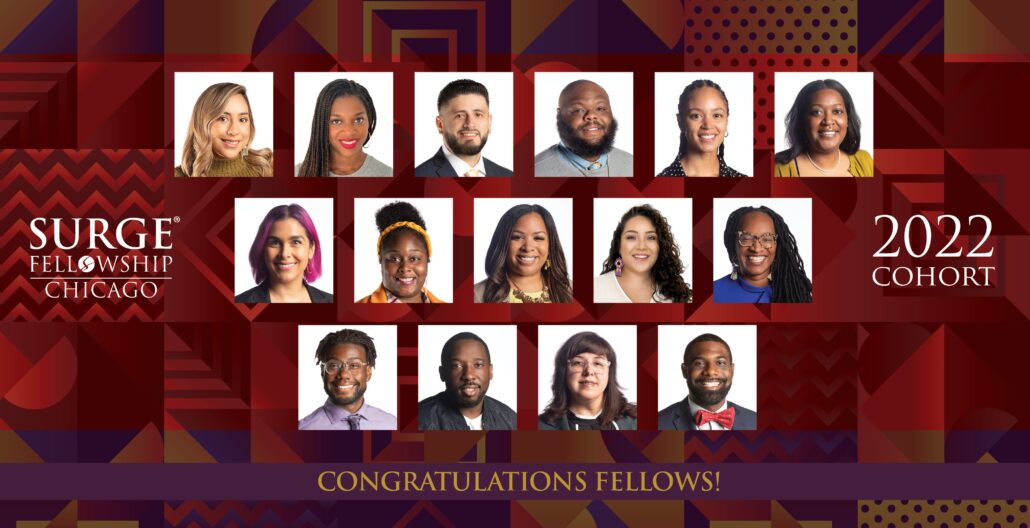 (CHICAGO, IL – September 7th, 2021) As the Surge Institute approaches its seventh year as a national organization, the community is honored to welcome 15 emerging leaders of color who will join this movement as part of the 2022 Surge Fellowship cohort in Chicago. Joining the Surge family from all areas of work that serve youth and communities of color, from nonprofit to school administration and from philanthropy to youth development, this class of Black and Latinx leaders are united by the collective goal to transform systems and build towards a liberated future for all communities in Chicago.
When asked what it means to be a Surge Fellow in 2021, Cecily Relucio, Chicago Program Director for the Surge Fellowship shared,
"Being a 2022 Chicago Surge Fellow is to choose connection, belonging, love and critical hope as an antidote to the myriad of injustices we face as a city and a society that are causing human suffering at local and global levels. It is about coming together in solidarity to build the world that we so desperately need, in order for our young people and us to collectively heal, thrive and be well. My hope and intention is for our Surge Chicago team, hand-in-hand with these powerful leaders of Color, to co-create a beloved community where we can just be, in our fullest and truest expressions of our humanity, and where we can cultivate our freedom dreams for the education of our peoples."
See below for a full list of 2022 Surge Chicago Fellows:
The Surge Fellowship is a signature program of the Surge Institute, which serves as a best-in-class, cohort experience that unites, accelerates and empowers emerging leaders of color in education. Earlier this year, Surge Chicago kicked off its recruitment season in an effort to select the next class of Surge Chicago Fellows, and over the course of the season they had the honor of gathering with a community of supporters and leaders at the powerful space #LeadTheSurge; engaging in a moving Fireside Chat with Dr. Bettina L. Love on the struggles and possibilities of committing to an abolitionist goal of educational freedom; and personally connecting with Chicago leaders seeking to learn more about this work and the Surge movement. Intentions and aspirations were set on holding spaces where Chicago leaders of color could gather to build coalition and participate in candid dialogue around what is most impacting youth and communities of color today.
"Historically, systemic marginalization has played a role in the plight of Black and Latinx individuals and families," said 2022 Surge Fellow Ugochukwu Ukasoanya. "Racism, bias, and oppression has contributed to divided communities, segregated public schools, resource inequities, broken public trust, and called integrity into question. This fellowship will allow me to challenge, disrupt, and dismantle all forms of systemic inequities and champion those who are ignored and unfairly vilified," he continued.
Throughout the Surge Fellowship, fellows center each other's lived experiences and personal talents as Black and Latinx leaders in order to fully realize the impact and equitable change they collectively envision for their communities. A key milestone in the experience is the Freedom Dreams Project (formerly known as the capstone presentation). This project is each fellow's culminating work that dives into a major project they hope to actualize that is most reflective of their hopes and aspirations of love, justice and equity — for the community and for themselves as education and youth-serving leaders.
Due to the ongoing COVID-19 pandemic and in light of developments around emerging variants, the organization has determined that all Surge programming will be held virtually through the end of 2021.
The Surge Fellowship was initially created with the goal of expanding diversity in the education leadership pipeline, and it has expanded in reach far and wide, activating, elevating, and connecting mission-driven minds and thought leaders across the nation. This work is made possible by Surge's community partners, funders, supporters and folks who believe in the genius that already exists in communities of color.
If you are interested in investing in the 2022 Surge Chicago cohort, consider making a contribution to the Surge Forward Fund, which goes directly towards covering tuition amount and supporting the journey of a fellow who would otherwise be unable to cover such the price of the fellowship, or by becoming an IMPACT Community Member.
About the Surge Institute
The Surge Institute was established in 2014 with a simple but important mission to develop and elevate leaders of color who create transformative change for children, families, and communities. Founded by Carmita Semaan, the organization's signature program, the Surge Fellowship, was designed to empower emerging diverse leaders to change the landscape of education by providing them with a unique, authentic leadership development experience.
To learn more about The Surge Institute, please visit: https://surgeinstitute.org/