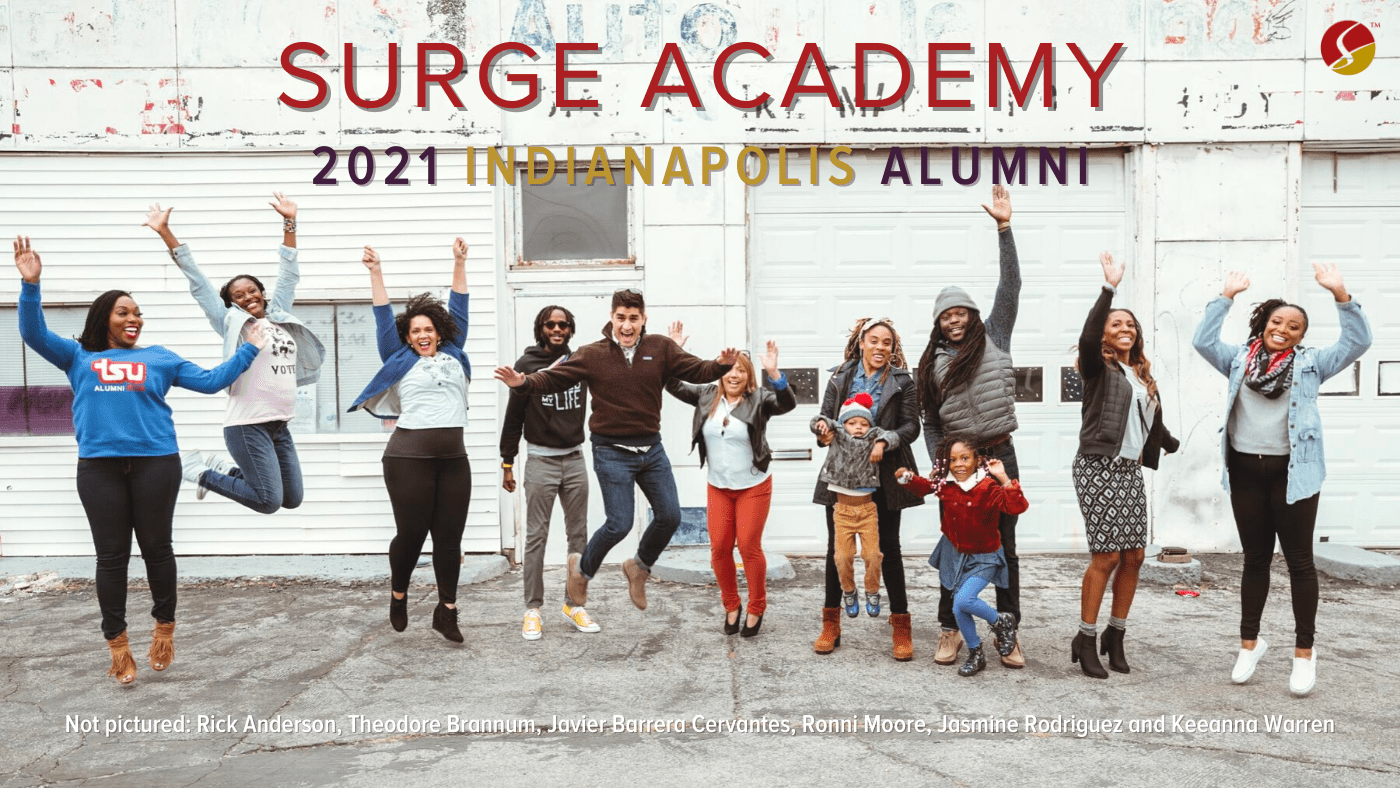 This past weekend, the Surge Academy Fellowship journey concluded for our 2021 Indianapolis cohort, culminating in a powerful two-day virtual retreat. Wrapping up their six-month fellowship, the cohort had the chance to engage with poet, educational consultant and teaching artist Lasana Kazembe, Ph.D. in an insightful Fireside Chat, and fellows also presented the progress in each of their Freedom Dreams Projects (FDP). The FDP is an opportunity for Surge Fellows to actualize a capstone that is most reflective of their hopes and aspirations of love, justice and equity — for the community and for themselves as leaders — all while leveraging the Surge network for support. Surge also welcomed Charlotte Westerhaus and Luz Cázares as guest thought leaders who spoke on subject matter from negotiations to finance.
The retreat closed with fellows sharing moving reflections about the Surge Academy experience and what their collective vision of liberation is for communities of color in Indianapolis. Below are what some fellows shared. Absolutely powerful!
"Surge has magnified our strengths, and we are all in tune and in touch with it. We had this experience together so when I think about my next steps, I know I can count on fellows that are on the same vibe."

"I am looking forward to building connections based in love with people who understand or are beginning to and willing to accept that they/we are unstoppable and can literally do anything."

"I could not have been in Indianapolis without Surge. I know how I feel about my people here, and I am grateful to be in community with this group. It's been affirming, life changing and I've seen the model of what it looks like to live into your full, true self, which has inspired me to grow."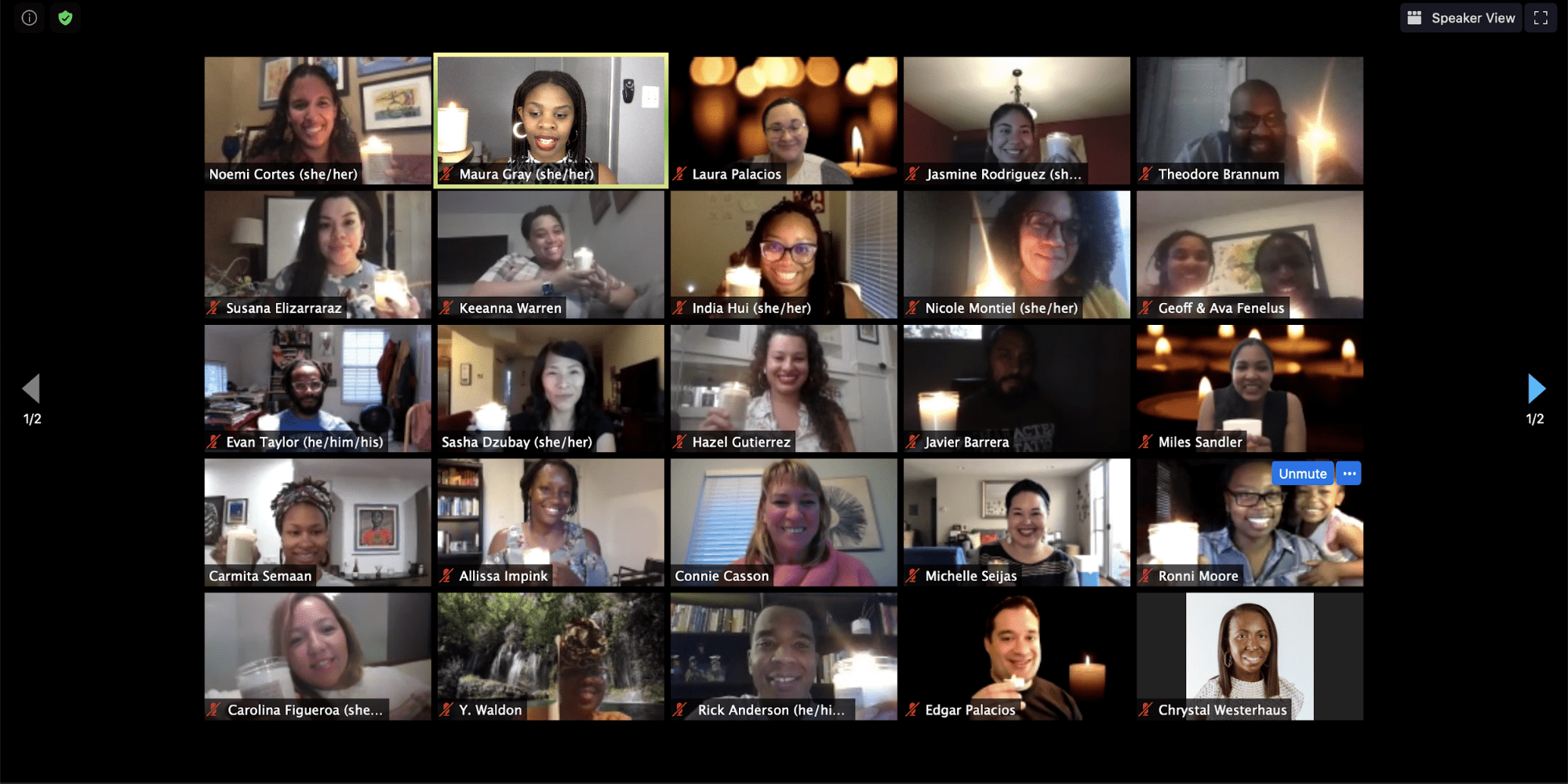 See the full list of the 2021 Indianapolis Surge Academy Alumni below and follow the Surge Academy on social media @Academy_Surge. We'd also love to thank The Mind Trust for their valued partnership in bringing the Surge Academy to Indianapolis. TMT is an education focused non-profit organization whose mission is to provide every student in Indianapolis, no exceptions, with access to a high-quality education.
Rick Anderson; Founder & Head of School,

Allegiant Prep Academy

Javier Barrera Cervantes; Executive Director,

The Latino Youth Collective

Theodore Brannum; Director of Finance and Operations,

URBAN ACT Academy

Ava Fenelus; Assistant Dean of Online Programs & Associate Professor of Science,

Relay Graduate School of Education

Geoffrey Fenelus; Founder/Executive Director,

PROMISE PREP

Carolina Figueroa; Bilingual Community Organizer,

Stand for Children

India Johnson; Executive Director,

Thrival Indy Academy

Allissa Impink; Manager of Community Engagement, K-12 Advocacy,

UNCF (United Negro College Fund)

Ma'at Lands; Executive Director and Founding School Leader,

Rooted School Indianapolis at Eastern Star Church

Nicole Montiel; CEO,

Anda Spanish

Ronni Moore; College and Career Readiness Coordinator,

Purdue Polytechnic High School North

Jasmine Rodriguez; 2021 Indianapolis Alum,

Surge Institute

Mathew Mauricio Rojas; Assistant Professor, Practice,

Relay Graduate School of Education

Evan M. Taylor; Instructional Coach,

Indianapolis Public Schools

Keeanna Warren; Principal,

Purdue Polytechnic High School North

Chrystal Westerhaus; Founding Principal,

United Schools of Indianapolis, Avondale Meadows Middle School
https://www.surgeinstitute.org/wp-content/uploads/2022/05/Surge-Trademarked-Horizontal-Logo-Registered.png
0
0
Eric Halloran
https://www.surgeinstitute.org/wp-content/uploads/2022/05/Surge-Trademarked-Horizontal-Logo-Registered.png
Eric Halloran
2021-03-29 10:00:25
2021-05-21 10:11:40
Welcome Newest Surge Alumni | 2021 Indianapolis