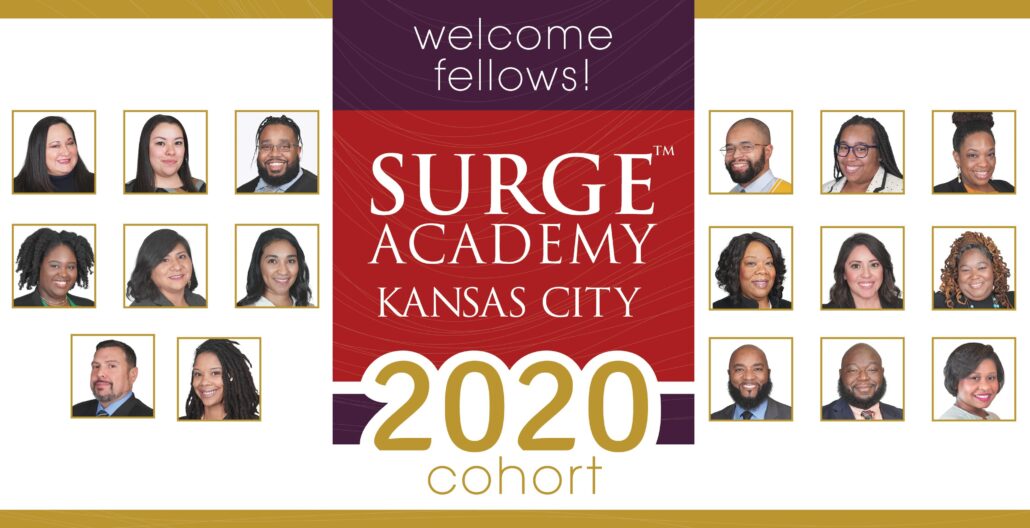 We are proud to announce that 17 leaders of color who currently serve within the Kansas City education landscape have been selected for the 2020 Surge Academy Fellowship! 
The Surge Institute initially began by serving Chicago-based communities in 2015, with the total number of our National Surge Alumni reaching over 100 education leaders of color this past August. We warmly welcome our new family members to our community, which values intentionality in elevating our strengths and reclaiming our collective narrative as executive leaders of color in education. Throughout this experience, Surge Academy Fellows will explore innovative and far-reaching approaches to transforming urban education for our youth and communities.
The following is a list of the 2020 Kansas City Surge Academy Fellows:
Laura Isabel Alvarez; Education Marketing Project Specialist, Ewing Marion Kauffman Foundation
Susana Elizarraraz; 6th Grade Math Teacher, Kansas City Public Schools
Jorge Fuller; Impact Manager, City Year Kansas City
AshleyMarie Marie; Postsecondary Retention Specialist, Kauffman Scholars, Inc.
Cristina Marquez; Trauma Sensitive School Clinician, Kansas City Public Schools
Brittney McGinley; Development and Engagement Manager, Kansas City Teacher Residency 
Eduardo Mendez; Director of Student Services, Guadalupe Centers School 
Ajia Morris; Founder, CEO, The Greenline Initiative
David Muhammad; Executive Director and Head Youth Instructor, Integrity Martial Arts Academy
Cescily Phillips; Dean of Students, Ewing Marion Kauffman School
Jahna Riley; Founding Family and Community Engagement Coordinator, Kansas City Girls Preparatory Academy
Kim Riley; Consultant, Education Consulting in Special Education
Jacqueline Rodriguez; K-5 ESL Instructional Coach, Kansas City, Kansas Public Schools
Catina Taylor; Founder, Dreams Consulting
Garrett Webster; Director of Admissions, Kansas City Public Schools
Jermaine Wilson; Director of Counseling and Support Services/AVID District Director, Kansas City Public Schools
Lateshia Woodley; Executive Director of Student Support Services, Kansas City Public Schools
Over the course of the program, Surge Academy Fellows will receive executive skill training, a space for connection and coalition building, and the tools needed to facilitate transformative change within institutions and organizations serving youth in Kansas City. In addition, the cohort will delve into modules of powerful content that explores topics such as finance and change management, all while having an ongoing dialogue about personal growth, trauma and the true state of diversity, equity and inclusion in the United States. 
After completion of the program, graduating Academy Fellows become part of an elite and growing national network of Surge Alumni who are continuously leading equitable change in education across the nation. The inaugural Surge Academy cohort recently graduated in June 2019, and they continue to be transformative change-makers as well as empowered champions on their communities.
"As a Surge Fellow, I hope to increase my leadership capacity to challenge the status quo while connecting with other leaders to contend with issues on the educational landscape that are rooted in socio-historical oppressive narratives and beliefs to help our students to reach the pinnacle of their academic success. Furthermore, I seek to broaden my knowledge base and skills to create powerful change in the system and I am positive that the networks and coaching in the Surge Academy will help me to not only join the movement but help others to catch fire as well," said Jermaine Wilson, 2020 Kansas City Surge Academy Fellow and Director of Counseling and Support Services/AVID District Director at Kansas City Public Schools.
"More than ever, we need courageous leaders that will push the conversation and actions further to ensure that African-American and Latinx youth are given a rigorous education that will help them to navigate the waters of life successfully," continued Wilson.
If you would like to learn more about the Surge Institute and support this movement, visit us at www.surgeinstitute.org and follow us on social media @SurgeFellowship! Once again, congratulations to our 17 new family members!
The Surge Academy is made possible with funding from the following partners: Ewing Marion Kauffman Foundation, Hall Family Foundation, the Greater Kansas City Community Foundation and the George K. Baum Family Foundation respectively.