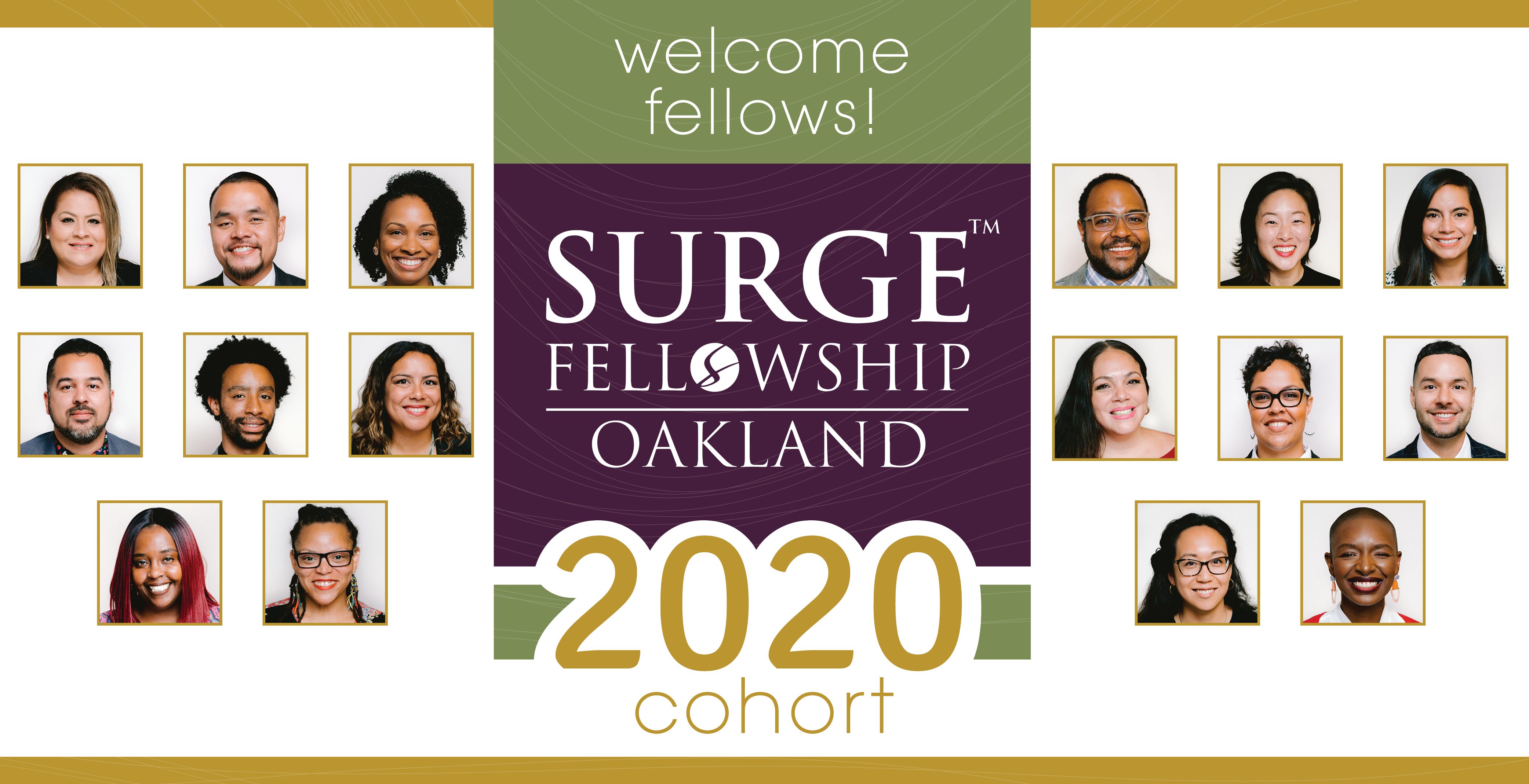 We are proud to announce that 16 leaders from across the Oakland & Bay Area education landscape have been selected for the 2020 Surge Oakland Fellowship program! This year-long cohort-based program focuses on uniting, accelerating, and empowering leaders of color in education and youth-serving organizations.
The Surge Institute officially began serving Oakland & Bay Area communities in January 2018, with the number of our Bay Area Alumni reaching a total of 22 African American, Latinx, and Asian/Pacific Islander education leaders this past July.
The following is a list of the 2020 Oakland Surge Fellows:
Over the course of the Fellowship program, Surge Fellows will receive executive skill training, a space for connection and community building, and the tools needed to facilitate transformative change within institutions and organizations serving youth and communities of color.
The cohort will also develop their own leadership and advocacy skills, with the culminating final step of the program being the completion of individual capstone projects, which will focus on advancing the work of a new or existing Oakland education initiative. Afterward, graduating Fellows become part of an elite and growing national network of over 100 Surge Fellowship Alumni who are currently leading change in numerous cities across the United States.
The Surge Fellowship began in Chicago in 2015, with the goal of expanding diversity in the education leadership pipeline. Over the past 4 years, the Surge Movement has expanded its reach beyond our imagination! 2.25 million students across the United States have been impacted by the work of Surge Alumni through education and youth-based organizations, and 97% of Surge Alumni say that their experience with the Surge Institute lead to an expansion of their own personal vision!
"The Surge Fellowship is a place for me to stand bold in my convictions, unpack my own identity within the context of the dominant narrative, and build up my own skills and literacy on how to disrupt, reimagine and rebuild oppressive educational systems. For me, I chose Surge because it's a space to reignite a sense of hope and healing within this work. It is a committed system of care and support that will have a lasting impact as I continue to serve our students and lead the teachers of Oakland," stated Roxanne Rose, 2020 Surge Fellow and Assistant Principal at Achieve Academy, Education for Change Public Schools.