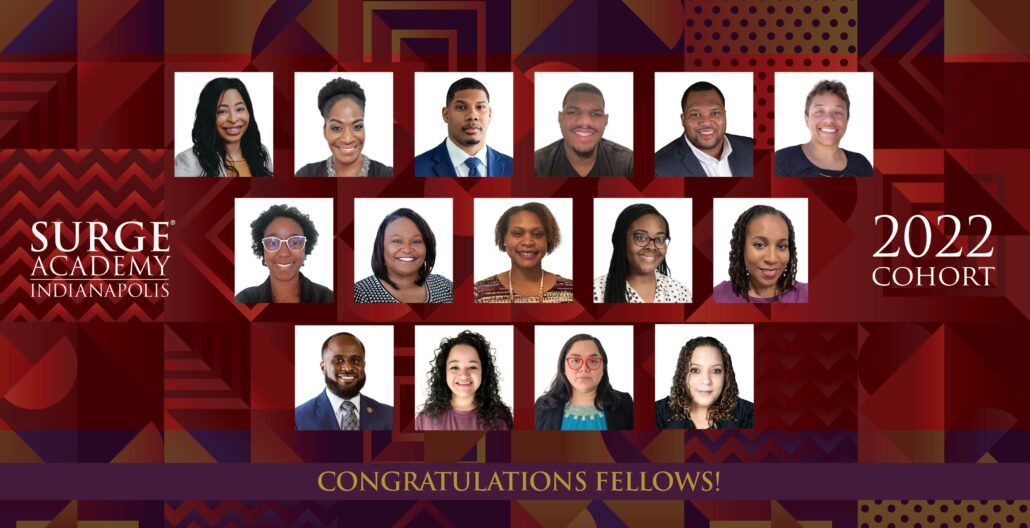 (INDIANAPOLIS, IN – February 3, 2022) Last Fall kicked off the Surge Institute's recruitment cycle to seek the next class of leaders of color in Indianapolis to #JoinTheSurge. After having the opportunity to connect with many education leaders and learn about the collective vision for transformative change in their communities, we are excited to welcome the newest class of fellows to our 2022 Indianapolis cohort. Janeen Lee, our Indianapolis Academy Program Director, shared the following regarding this milestone in the movement:
"Coordinated efforts by collectives of passionate change makers are what truly drives lasting change. I am honored and excited to facilitate this cohort of leaders in leaning into our collective genius and continuing to shift the tide in education and bring about equitable change."
Meet the Surge Academy's 2022 Indianapolis cohort:
During the seven-month program, Surge Fellows develop competency in organizational management, relationship management, strategic planning and problem solving, navigating complex environments, and expertise in the history and structure of public education.
Coordinator for Linguistically Diverse Scholars and Spanish Teacher at KIPP Legacy High, Tylie Mendoza-Robertson, shares her reflections on what lies ahead through the Surge experience.
"My experiences as a Black Woman in education teaching Black, Brown, and Indigenous children while simultaneously raising my own has amplified both my passion for educational equity and my drive to be a force in closing the achievement gap." She continued, "Surge provides an opportunity to be surrounded by community and individuals in a collaborative and supportive space. I know that as a Surge Fellow, I can show up authentically in a space that fosters advocacy, innovation, creativity, and leadership with individuals who share my mission and vision."
The Surge Academy in Indianapolis is made possible thanks to the partnership and support from The Mind Trust, whose mission is to dramatically improve public education for underserved students. In December 2021, Surge announced its inaugural Washington, DC cohort, as well.
Sign up for our quarterly newsletter to stay connected to the movement as we explore the next chapter of Surge with our new family members.
MEDIA CONTACT:
Marisa Muñoz
c: 773-251-7475
About The Surge Institute:
The Surge Institute is a national 501(c)(3) nonprofit organization that was established with a simple but important mission to develop and elevate leaders of color who create transformative change for children, families, and communities. Founded by Carmita Semaan in 2014, the organization was designed to empower emerging diverse leaders to change the landscape of education by providing them with a unique, authentic leadership development experience. To learn more about The Surge Institute, please visit: www.surgeinstitute.org.
About The Mind Trust:
The Mind Trust is an Indianapolis-based education nonprofit organization that works to build a system of schools that gives every student in Indianapolis, no exceptions, access to a high-quality education. The Mind Trust does this by building a supportive environment for schools through policy and community engagement, empowering talented educators to launch new schools, and providing existing schools with the support they need to hire world-class talent and achieve excellence. Since 2006, The Mind Trust has supported the launch of 38 schools and helped place more than 1,600 teachers and school leaders in Indianapolis classrooms. More information can be found at themindtrust.org.