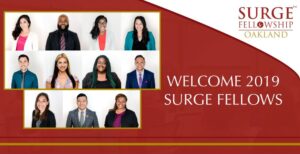 Eleven leaders from across the Bay Area education landscape, have been selected for the 2019 Surge Oakland Fellowship program. The year-long cohort based program unites, accelerates and empowers emerging leaders of color in education.
The Surge Institute officially began serving Bay Area communities in January 2018 with the opening of their west coast office and kickoff of an inaugural Oakland Surge Fellowship. Both the inaugural and 2019 cohorts (each) consist of eleven African American, Latinx and Asian/Pacific Islander emerging education leaders.
"What I love about Surge's vision is that it's not just focused on developing my capacity in my role, but it's about equipping me to transform the education ecosystem alongside other educational leaders … equipping us for widespread impact," shared 2019 Surge Oakland Fellow, Janelle Bailey, Interim Site Director/Academic Affairs Director at College Track.
The following is a list of the 2019 Oakland Surge Fellows:
Over the course of the Fellowship program, fellows will receive executive skill training, leadership development, a space for connection, and the tools and networks needed to facilitate transformative change within institutions and organizations serving youth and communities of color.
The cohort will also develop their own leadership and advocacy skills. As a culminating final step of the program, Fellows will complete individual capstone projects to advance the work of a new or existing Oakland education initiative.
"I'm inspired by Surge's investment in leaders of color and I'm excited to build on my experience through the intentional, accelerated leadership development of the Surge Fellowship in a network of African American, Latinx, and Asian-Pacific Islander educators," continued Bailey.
Graduating fellows become part of an elite and growing national network of Surge Alumni. In 2018 there will be over 80 Surge Fellowship Alumni leading change in cities across the US.