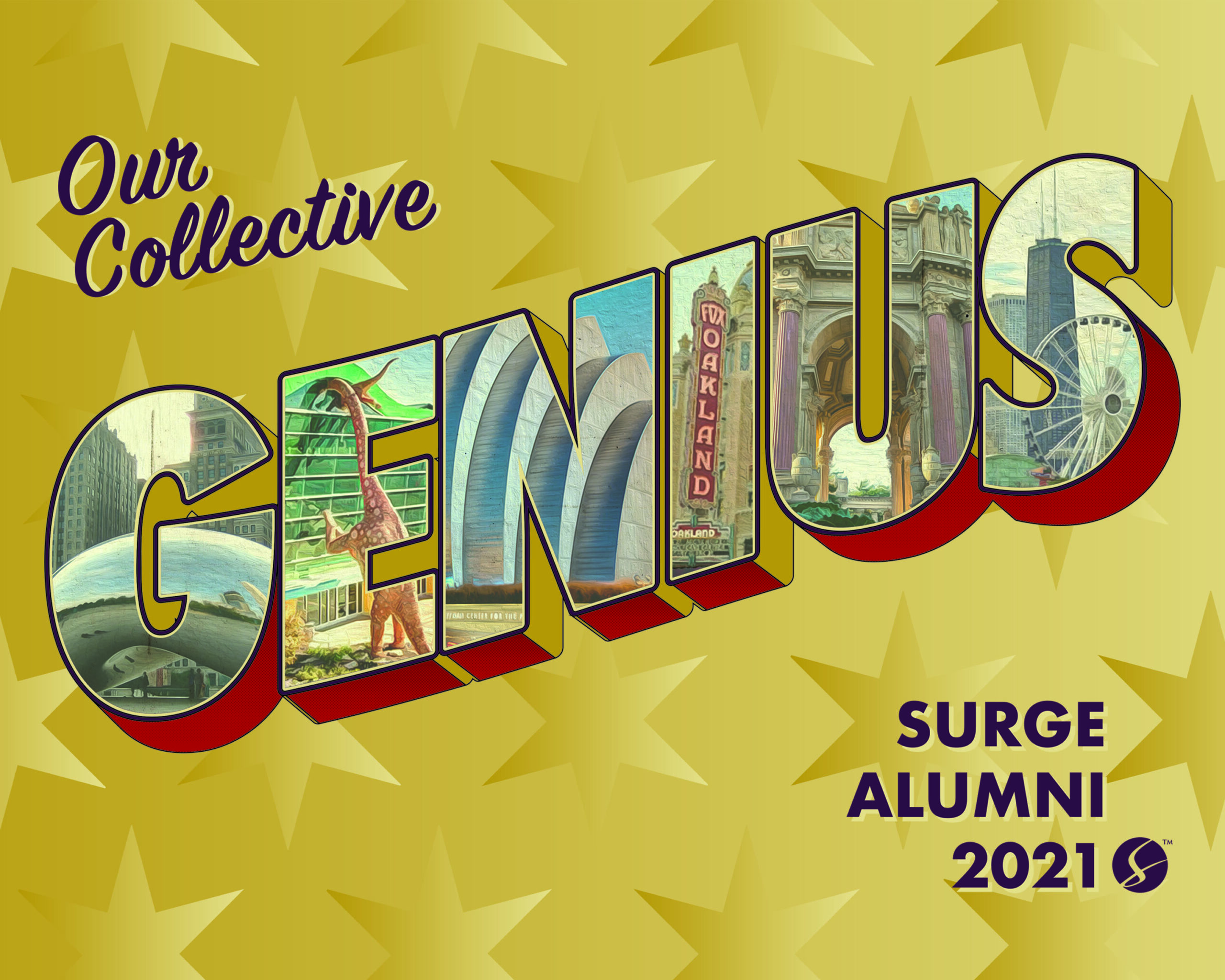 Two years ago, we held the inaugural Surge Convening in New Orleans, a gathering that brought together five cohorts of alumni from Chicago and Oakland. It was a space which inspired that generation of leaders to move their work forward in powerful ways, the likes of which Surge had never seen before. We knew then that the 2019 Convening would be the first of many.
Then the COVID-19 pandemic hit, and our initial vision for the second Alumni Convening was pushed back. Although we would not be able meet in-person this time around, we aimed to still build an energizing experience for our Surge Alumni Community that was accessible and met their specific needs as leaders of color in this time.
To activate, celebrate and elevate our collective genius. That was the goal with the 2021 Surge Alumni Convening, and through months of organizing and input from the Alumni Steering Committee, in partnership with Alumni Impact work, and many heartfelt supporters of this movement, we did it!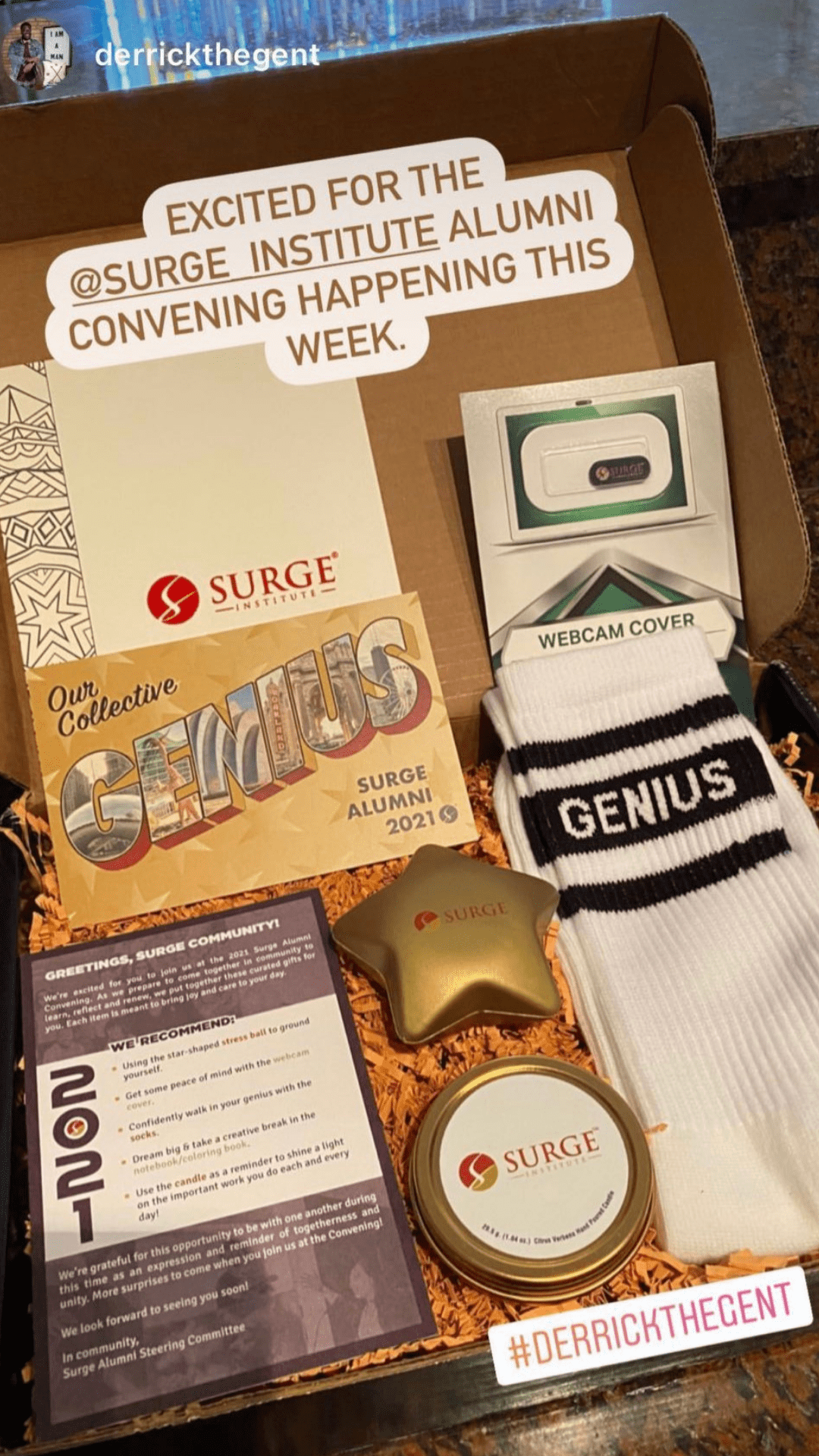 From March 4th to March 5th, we virtually hosted the 2021 Surge Alumni Convening, guided by the theme #OurCollectiveGenius. Over the Convening, there was such high energy and warmth from witnessing TWELVE cohorts convene in deep fellowship, and to see that drive, passion and genius collected together – it was everything. Much like in 2019, the space was designed by Surge Alumni, for Surge Alumni, and we tapped into the incredible pool of talent, knowledge and resources this movement has built over the past five years. Over 30 alumni speakers led Breakout sessions & workshops, which focused on a range of topics from education, racial equity, entrepreneurship, fundraising, and much more.
Miles Sandler (KC'19), Director of Engagement, Education at the Ewing Marion Kauffman Foundation describes the experience well: "Our Collective Genius is a powerful call to BIPOC leaders. It states that we are not alone, independently attempting to forge our own way through an oppressive system." 
In addition to sessions led by Surge Alumni, our community had the opportunity to engage brilliant minds such as Kiese Laymon, who joined for a conversation around how we navigate our genius in Black and Brown bodies, and he spoke about his own experiences as a Black man working within Higher Education. Attendees also got to hear a powerful, rejuvenating performance from Bomba Con Buya, a Chicago-based ensemble that aims to preserve and advance bomba. Developed during the 18th century among the island's African descendants, bomba is known as Puerto Rico's oldest surviving music and dance form.
"Our intention was to create a space that focused on the genius of our alums and to bring about togetherness and intimacy across a virtual divide," said Sasha Dzubay, Director of Alumni Impact.

Surge Alumni have recently been sharing their feedback and thoughts, and we believe the efforts for this year's Convening can be summed up in this anonymous testimonial from an alum, 'I was so impressed how the Surge vibe came through, even in a virtual setting and how I truly got a chance to connect in ways I haven't been able to during the pandemic.' 

"I'm very proud of the intentionality that went into every aspect of the Convening from the bomba music that welcomed folks into the space to uplifting alumni ventures such as Aya Coffee + Books," continued Sasha.
During the Convening, four Surge Alumni were also recognized for the transformational work they're each leading within their respective cities and across the nation. Congratulations again to the following leaders: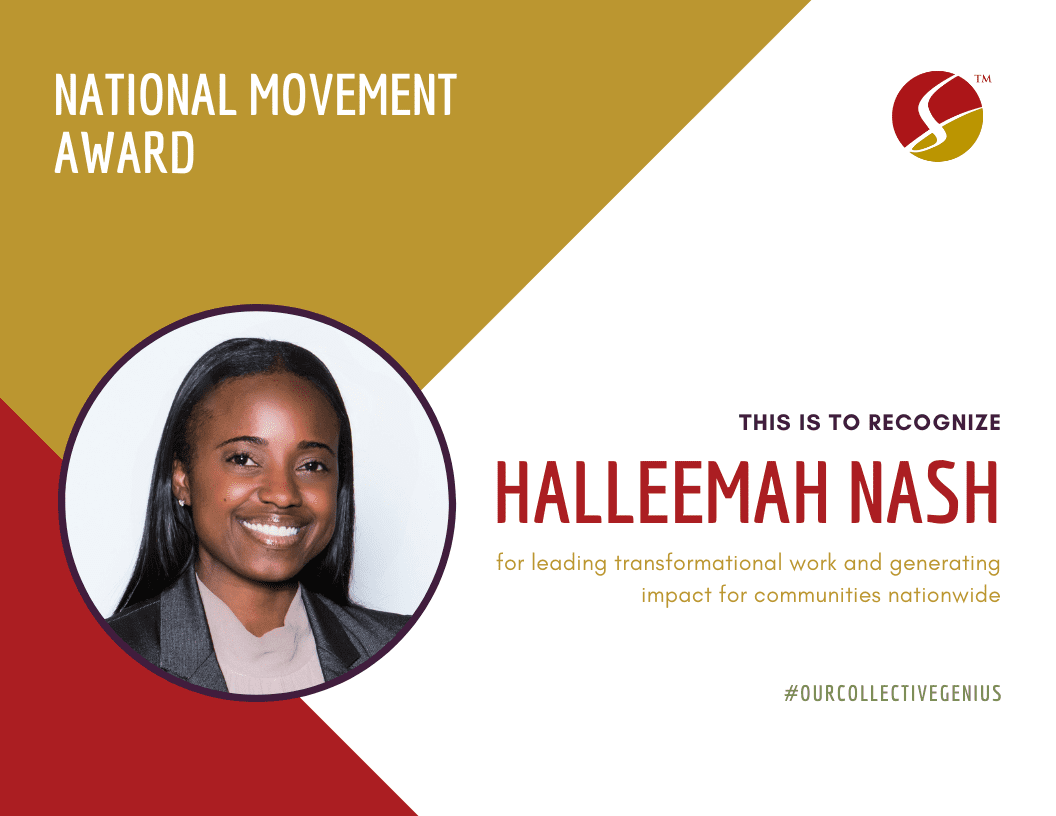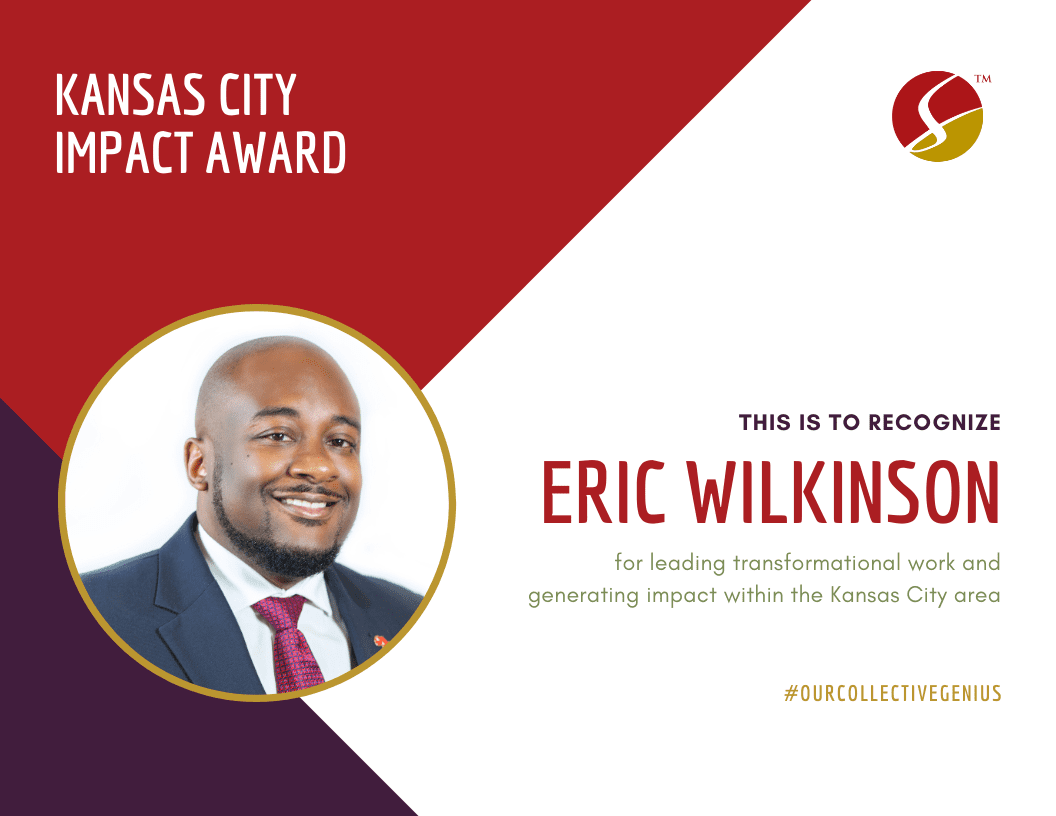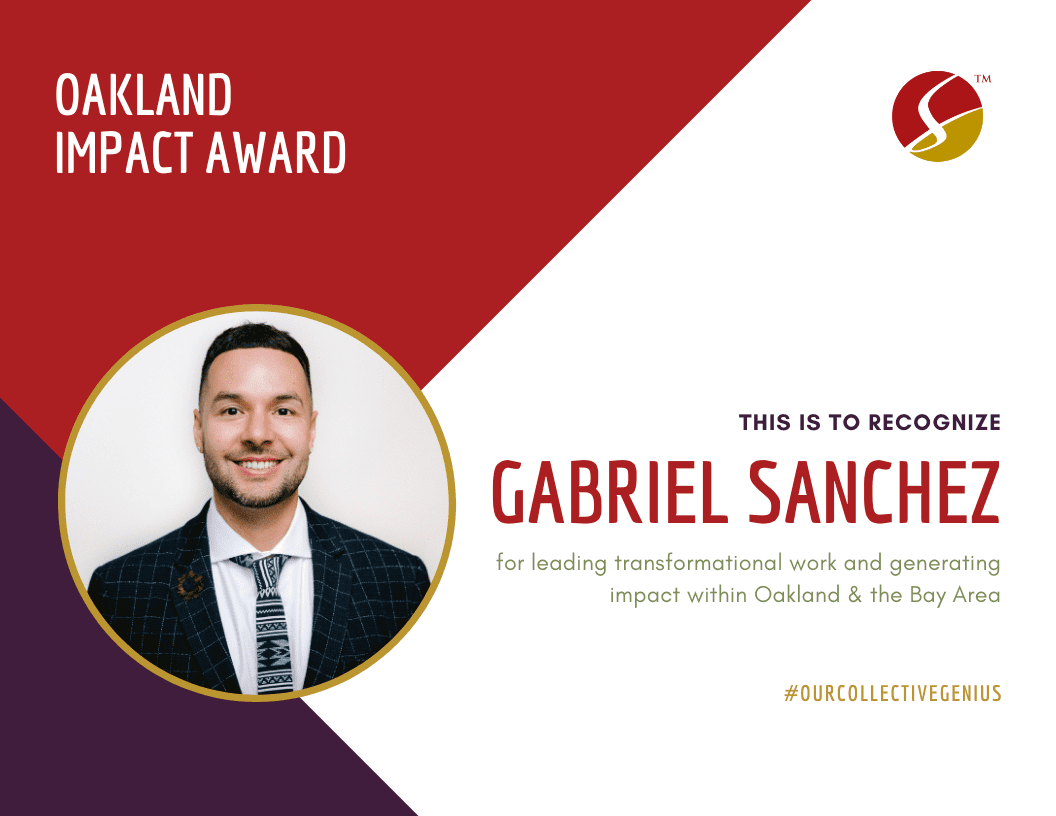 We are deeply grateful to have been able to build and share such an energizing space with the thought leaders, warriors, healers and storytellers who are Surge Alumni. Although the collective work in equity and education is far from over, our community continues to stay connected and united in their vision of a liberated future for families, youth and communities of color across the world.
Thank you to our external partners and guests who were essential in bringing the Convening Space to life:
ABOUT SURGE: Founded by Carmita Semaan in 2014, the Surge Institute's mission is to educate and develop leaders of color who create transformative change in urban education. Surge is the preeminent pipeline addressing the dearth of leadership of color at the decision-making tables within education. Through its national programs,Surge educates, empowers and energizes educational leaders of color who will create transformative change in the communities they serve.
MEDIA CONTACT: For an interview with Surge or to learn more about the organization, please contact Christopher Paicely at chris@surgeinstitute.org.
https://www.surgeinstitute.org/wp-content/uploads/2022/05/Surge-Trademarked-Horizontal-Logo-Registered.png
0
0
Eric Halloran
https://www.surgeinstitute.org/wp-content/uploads/2022/05/Surge-Trademarked-Horizontal-Logo-Registered.png
Eric Halloran
2021-03-15 11:06:43
2021-05-21 10:13:25
Leaders of Color Gather to Activate, Elevate and Celebrate their Collective Genius